As we're winding down yet another year here at Apples for CJ I wanted to share the top ten recipes. Ya know... the ones you Guys viewed the most, made the most and Enjoyed the most. So here you'll have your favorite recipes in one spot & some you may have missed along the way. All Gluten Free, Vegetarian.
And I just wanted to start off by saying Thanks 🙏 😘... for being a part of the AFCJ family!
Cause without you Guys this little blog would not be what it is today.
Your reading, sharing and comments mean so much.....
So Cheers 🎉 my friends, to a New Year where I look forward to sharing lots more yummy treats with you.
Let the countdown begin for the 2018 fav's .....
Clearly I can see Why this made the list AGAIN this year.... A tasty hearty bowl of comfort food. Vegetarian French Onion Soup is super easy to make in the slow cooker with only a few ingredients.
Fresh, light and so full of flavor...This Lemon Dill Potato Salad is flavored with a lemon vinaigrette and fresh dill. Great for picnics, cookouts or any time you want a lighter potato salad. Vegan & Gluten Free.
Fries of course.. gotta love em...Baked Parmesan Zucchini Fries are a tasty, healthier option for fries. And they're made with less than five ingredients. Gluten Free & Vegetarian.
Healthy, easy, yummy snacks.. of course would be on the list of top 10...  These Four Ingredient Parmesan Kale Crisps can be made in under ten minutes.  They're great topped on salads, soup or even just as a snack chip. Gluten free & Vegetarian.
So happy ❤ to see these on the list... one of my first experiments with coconut flour.... These Coconut Flour Blueberry Muffins are deliciously moist and perfect as a snack or for breakfast. Easy to make and bursting with a fresh blueberry taste. Less than ten ingredients(Gluten Free & Vegetarian). 
Glad to see so many of you Enjoying these... love, love, love em.... These Almond Flour Tortillas are super soft pliable wraps great for tacos, burritos, sandwich wraps and so much more. (Gluten Free, Low Carb).
And all this yumminess in one big bowl... definitely one of my all time fav's that I make quite often.... Spicy Crock Pot Cauliflower Mac & Cheese is an easy to prepare gluten free option for Mac & Cheese. Creamy, delicious and loaded with all the cheesy flavors. Low Carb, Gluten Free & Vegetarian.
When you're looking for a lower carb pizza you seriously need to give this a try 😉.... Cauliflower Crust Veggie Pizza is pizza crust made from cauliflower and then topped with your favorite veggies. Vegetarian and Gluten Free.
Easy, delicious and a must try... No wonder it made it to the second most viewed recipe this year.... Garlic Lovers Dill Pickle Pizza is loaded with fresh garlic, dill pickles and cheese. So simple, yet the perfect match for pizza. Vegetarian and Gluten Free.
And NOW... the recipe that was viewed & made the most this year on AFCJ is.... 🙌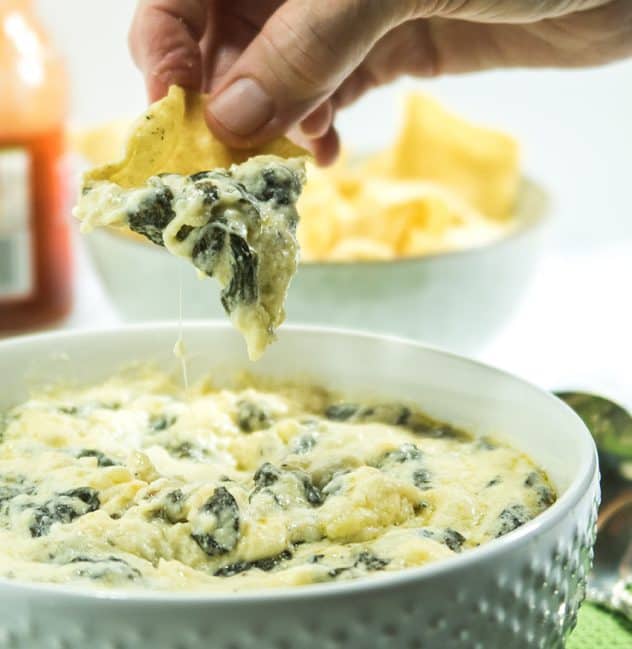 Need I say more... this is one of my family's favorites as well... Warm Creamy Spinach Dip is the perfect appetizer to serve at gatherings or parties. It's always a crowd pleaser that is both Vegetarian and Gluten Free.
And there you have it my friends... see ya next year 😘
ENJOY!