Stovetop Cheesy Quinoa is an easy delicious side that comes together in under 20 minutes. Cheesy, creamy, satisfying and a great way to switch up mac n cheese. Gluten Free, Easy.
Can I just start by saying "Omgosh"... this stuff is seriously sooo good.
And to think it's super easy to throw together and I'm really wondering why it took me so long to make this stuff.
Especially since I've been enjoying Quinoa so many different ways now...
And we all know about my slight addiction to cheese. 😂
But Quinoa has seriously been one of my go to additions to meals.
Reasons to add Quinoa to your diet....
Quinoa is a decent source of fiber.. and better then yellow corn or brown rice
It's fairly low on the glycemic index so doesn't cause rapid spikes to blood sugar
Quinoa is considered a complete protein source....
By providing the essential amino acids
Plus it's a good source of minerals
So many reasons you should be adding Quinoa to your meals.
Tips for making Stovetop Cheesy Quinoa:
Always make sure to thoroughly rinse Quinoa prior to cooking....
I find the easiest way to do this is just let it soak in a bowl of cold water about 15 minutes prior to cooking...
Then just drain in a mesh strainer and rinse
Grate your own cheese- just so much better than the pre-shredded bags....
Melts easier and doesn't contain things to keep it from caking 🤔
Have all your ingredients ready prior to starting
Can I make this Cheesy Quinoa ahead of time?
The short answer is yes ✔
As a matter of fact I prefer to make it ahead... then just keep it warm in the oven till ready to eat.
It also re-heats nicely so makes wonderful leftovers if you're lucky enough to have any left. 😉
So you may want to consider doubling the batch.
What to serve with it?
It actually goes great with a lot of things or even eaten alone.
Just think of what you'd normally serve with mac n cheese....
Like a green salad, pinto beans or chili beans (my fav). I've even plated it on the bottom of a bowl topped with chili.. YUM.
Other suggestions would be broccoli, asparagus, or green beans.
More ideas for using Quinoa....
Mediterranean Quinoa Breakfast Casserole
AND IF YOU MAKE THIS RECIPE PLEASE BE SURE TO LET ME KNOW IN THE COMMENTS BELOW…..
I'd love to hear if you make this & how you like it. Plus please be sure to include a star
rating.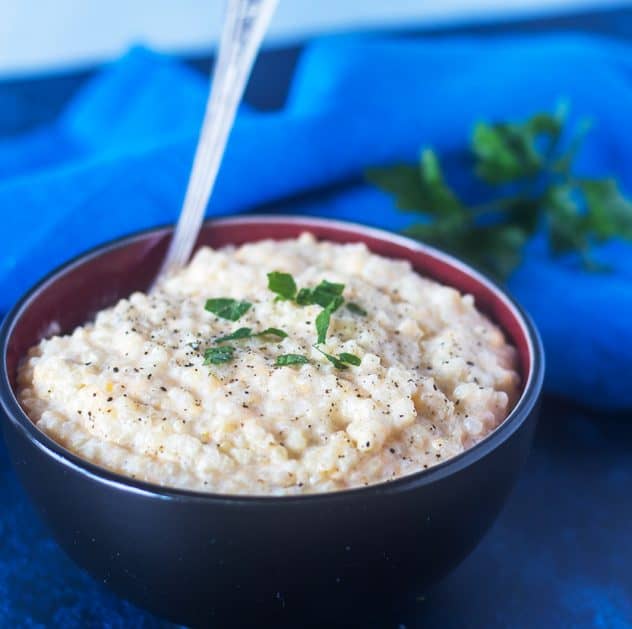 Until next time-xoxo

Stovetop Cheesy Quinoa (Gluten Free, Easy)
This Stovetop Cheesy Quinoa is creamy, cheesy and delicious. A great addition to any meal or even good served alone.
Ingredients
½

cup

uncooked quinoa

1 ½

tbsp.

unsalted butter

1

tbsp.

cornstarch (non-gmo)

1

cup

half & half cream

½

cup

plain greek yogurt full fat

6

ounces

sharp cheddar cheese shredded

2

ounces

monterey jack cheese shredded

½

tsp.

garlic powder

¼

tsp.

onion powder

¼

tsp.

dried mustard

salt & pepper to taste
Instructions
Cook quinoa according to package directions making sure to rinse thoroughly before cooking.

Meanwhile on stovetop over medium heat melt butter, then add cornstarch, garlic powder, onion powder and dried mustard.

Stir until roux is formed.

Add half & half, and greek yogurt and continue to stir until starting to thicken about 4-6 minutes.

Once it's thickened up turn heat off and add shredded cheese.

Stir till melted and taste for salt & pepper.

Add cooked quinoa and stir till combined.
Notes
Can be re-heated in the oven at 250 degrees for about 10 minutes or until creamy and warm.