"Pulled" Barbecue Spaghetti Squash Sandwiches can be made on the grill or cooked in the oven. Slow cooked and mixed with homemade BBQ sauce. Then topped with crunchy coleslaw. Vegetarian, Gluten free, & Vegan option.
Happy Happy I'm so READY for the weekend!
If I sound a little EXCITED it's probably cause I'am...not that I have any BIG plans it's just been one of those weeks.
And I am so, sooo ready to just chill and do nothing.
Since I just really couldn't seem to get any one thing accomplished this week.
But I did want to pop in today with these "Pulled" Barbecue Spaghetti Squash Sandwiches.
Cause Guys these turned out truly AMAZ-ing and exceeded all my expectations!
And if you're a regular around this blog you know I've attempted many spaghetti squash recipes.
But this one has been on my to do list for quite a while now.
Because being vegetarian & gluten free does not mean you can't have all the things you may have once loved before.
And being a Southern girl barbecue sandwiches were a summertime must.
Okay guys, now I can't promise you that these taste exactly like pulled pork barbecue sandwiches....but flavor wise I think they come pretty darned close.
When the husband got home and I was making the BBQ sauce for these he did a quick taste test. Cause that's one of his jobs...I know poor Guy!
Uhhmmm, the look on his face said it all, but his first comment was "this tastes like hot dogs".
I knew then I had a winner cause we haven't had a hot dog in years and that was always a favorite of his.
So with the Labor Holiday right around the corner I thought these would be the perfect addition for the holiday cookout.
And if you're looking for other ideas along with these "Pulled" Barbecue Spaghetti Squash Sandwiches  for your cookout, then you might wanna check these other recipes out.....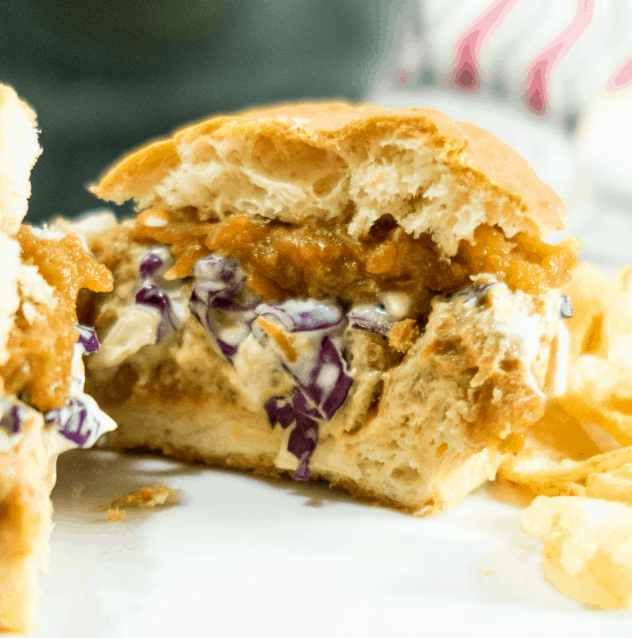 "Pulled" Barbecue Spaghetti Squash Sandwiches
"Pulled" Barbecue Spaghetti Squash sandwiches can be made in the oven or on the grill for a tasty, vegetarian, vegan option for your next BBQ.
Ingredients
1

medium spaghetti squash

¾

tbsp.

olive oil

BBQ Sauce ingredients:

1 ½

cups

ketchup*

2

tbsp.

Dijon mustard

3

tbsp.

Apple cider vinegar

2 ½

tsp.

garlic powder divided

1

tsp.

onion powder

½

tsp.

smoked paprika

2

tbsp.

coconut aminos**

½

cup

water

1

tbsp.

honey****

salt & pepper to taste

couple dashes of hot sauce to taste
Instructions
Preheat oven to 375 degrees.

Cut spaghetti squash in half lengthwise and scoop out seeds.

Place on large baking sheet flesh side down with a little water on bottom of pan.

Cook 30-40 minutes until easily pierced with a fork.

Remove from oven, flip over squash and allow to cool at least 10 minutes.

Meanwhile place all the above ingredients for the BBQ sauce in medium saucepan reserving ½ tsp. garlic powder for spaghetti squash.

Cook over medium heat at least 30 minutes.***

Once spaghetti squash has cooled with a fork remove the strands and place in large mixing bowl.

Add olive oil and ½ tsp. garlic powder and combine.

When BBQ sauce is done mix with the spaghetti squash and place in oven safe dish at 300 degrees for 15-20 minutes.

Serve on buns or can be stored in airtight container until ready to serve.
Notes
* I used unsweetened ketchup
**can use soy sauce in place of coconut aminos or braggs aminos
***can make the sauce while spaghetti squash is cooking and will save time
I usually make my spaghetti squash up ahead of time and just store in the fridge so ready to use for recipes.
****vegan option: use maple syrup instead of honey