Zucchini Veggie Hot Dogs are a tasty, healthier version that can be topped with all your favorites. Vegetarian and Gluten Free.
When trying to find a vegetarian substitute for the traditional hot dog that tasted good and with similar texture, it became somewhat of a challenge. It also needed to be gluten free. So I was on a mission to create one myself and this Zucchini Veggie Hot Dog was the result.
Hot dogs are just one of the great summertime classics. They're something you can find at almost any barbecue or sporting event. And I used to enjoy one from time to time before becoming a vegetarian.
After that I tried some of the ready prepared veggie dogs which were sufficient at the time. Then throw into the mix removing gluten from my diet, it kind of put most of those out of the picture.
So with all the Zucchini recipes floating around I thought, Why not?  Zucchini=Hot Dogs,  uhmm have I come up with a brainstorm? Well, maybe not, but in my mind this mission was going to happen.
I actually came up with a texture and flavor that both myself and main taste tester(husband) approved of.
What really makes a great hot dog is the toppings. Coleslaw, onions, and mustard are all my favorites and they were awesomely great on these Zucchini Veggie Hot Dogs.
I say get creative when it comes to food.  A "Hot Dog" can really be anything you want it to be. I think its name originated from the long thin shape and has been called various other names since then.
I've seen carrots used as hot dogs and actually have tried that.  They grill up nicely and was pretty good but not exactly what I was looking for.
These Zucchini dogs are:
Great with all your favorite toppings
Can be made ahead and stored in the fridge for several days.
When ready to eat can be lightly grilled or just eat right out of the oven.
And your vegetarian friends will be impressed 🙂
Zucchini are great served so many ways including this one. Get experimental and there are many  great zucchini recipes to be shared.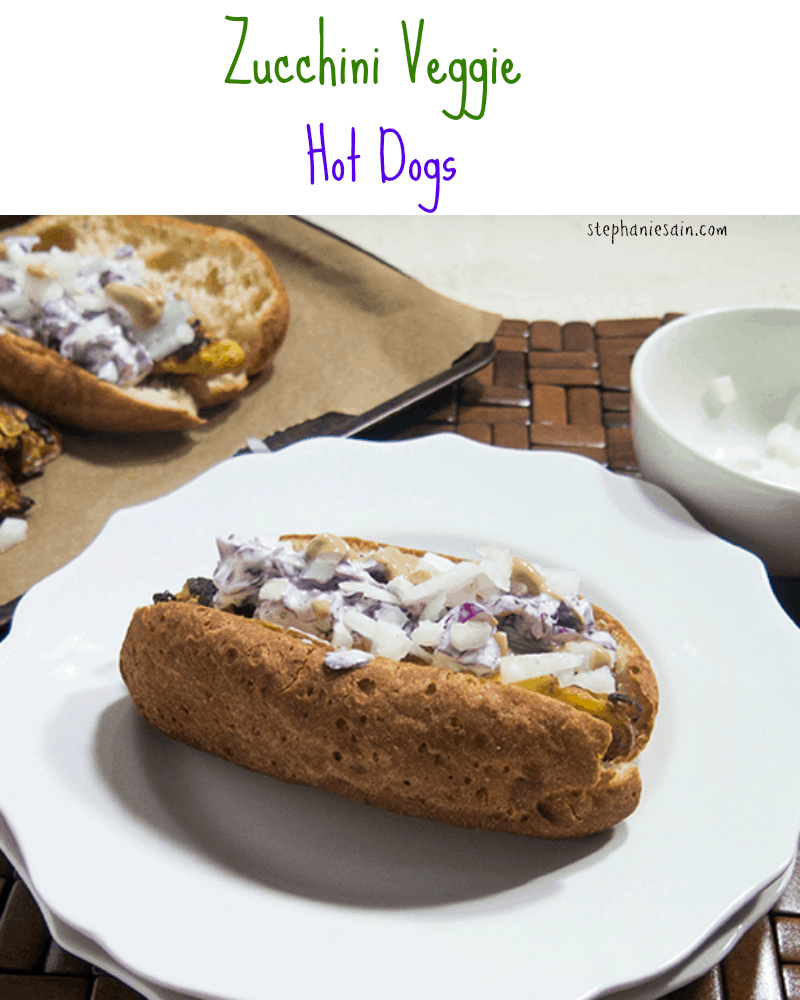 Zucchini Veggie Hot Dogs
Zucchini shredded and rolled into hot dog are the perfect vegetarian, gluten free option.
Ingredients
2

medium zucchini shredded

3

cloves

garlic chopped

2

tbsp.

fresh chopped parsley

½

tsp.

garlic powder

½

tsp.

mustard seed

salt & pepper to taste

2

cups

shredded mozzarella cheese

3

eggs
Instructions
Preheat oven to 375 degrees

Line large baking pan with parchment paper

Cut ends off zucchini and rinse. With box grater shred zucchini and place in medium mixing bowl.

Add remaining ingredients and mix well.

Pour into fine sifter or strainer and place over another bowl. Use spoon and push mixture into strainer to remove as much moisture as possible. You could also use a clean kitchen towel if you prefer to squeeze out moisture.

Take large spoonful in your hand and shape into hot dog size and place on pan(reshape as necessary)

Bake in preheated oven 15 minutes. Remove from oven and with knife gently reshape or trim off any excess that may have come out. Place back in oven and cook 10 more minutes. Remove from oven and with tongs push together again to reshape and turn them upright on side. Cook an additional 10 minutes. Remove from oven and top with your favorite ingredients.