Cauliflower Steaks are so simple to prepare and a tasty meat-free addition to your cookouts. Lightly seasoned and then charred on the grill to perfection (Vegan & Gluten Free).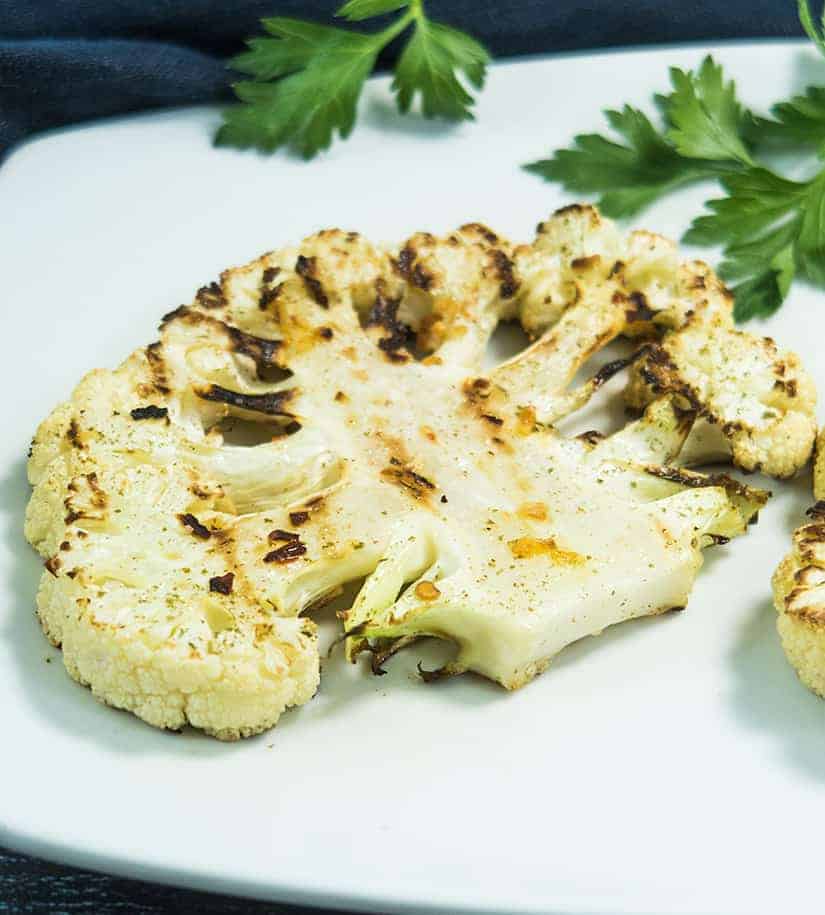 CAULIFLOWER STEAKS GRILLED
So with the first official grilling out weekend quickly approaching I wanted to share these Grilled Cauliflower Steaks. They are a great option to serve to any of your Vegetarian or Vegan friends...or even just yourself. 😉
And since I like to keep things simple when cooking out, any prep work I can do ahead of time just makes it a better experience.
Especially when the weather is nice, nobody wants to spend all day in the kitchen.
Hence these Cauliflower Steaks are perfect since you can prepare them ahead of time and put them in the fridge till ready to grill.
As much as I enjoy cooking and creating new recipes, sometimes I just wanna hang out with family and friends... 🙂
And if you're looking for a relaxing cookout experience let me share with you a few other great make ahead cookout options.
Sides to serve with Cauliflower Steaks.....
So you see cooking out really needs to be done in a relaxing manner with a few drinks on your patio or by the pool.. 😉
But anywho, if you're not grilling out you really need to try this Spicy Crock pot Cauliflower Mac & Cheese.
This is seriously my go to recipe for preparing cauliflower and one of first recipes I shared on the blog.... and it continues to be one of my most viewed recipes & for good reason.
Sorry to get a little off track, just had to share that AGAIN in case you Guys missed that recipe since it's seriously sooo good!
Now back to the Cauliflower Steaks...you can easily serve them plain but I must tell ya they're also good slathered in BBQ sauce.
And I have a yummy Honey BBQ sauce you may want to consider adding to these.
So Happy Grilling Friends!!!
Enjoy!

📖 Recipe
Grilled Cauliflower Steaks
Cauliflower sliced into steaks and grilled is a perfect vegetarian/vegan option for a cookout.
Ingredients
2

medium heads of cauliflower

⅓

cup

olive oil

4

cloves

garlic chopped

1

tsp.

onion flakes

½

tsp.

red chili pepper flakes

½

tsp.

dried parsley

Pink Himalayan Sea Salt to taste*
Instructions
In medium bowl combine olive oil, garlic, onion flakes, red chili pepper flakes and dried parsley.

Remove outer green leaves from cauliflower and then slice into ½ inch slices.

Brush both sides with olive oil mixture. Then sprinkle with salt.

Place on grill and cook about 10-12 minutes per side.
Notes
* can use any kind of salt
When slicing cauliflower into steaks the first pieces you slice don't usually work well for steaks. But save those florets in a Ziploc bag for later use.
So may uses for it... like Spicy Crock pot Cauliflower Mac n Cheese
Updated- originally posted May 2016