Asparagus Chickpea Salad is a tasty, complete one bowl meal. Kale topped with roasted asparagus,  turmeric roasted chickpeas, and a lemon tahini dressing. Vegan & Gluten Free.
Hey Guys! Hope you all have been Enjoying an awesome week thus far and are looking forward to the upcoming Weekend!
And since my week has not been quite as productive as I like, sharing this simple tasty Asparagus Chickpea Salad just seemed like the thing to do.
Cause sometimes you just need a few quick, tasty, easy meals to go to...
You know for those days when you're not quite as motivated but still want a healthy, tasty meal.
So this salad definitely qualified as all that and can be prepared in less than 30 minutes.
For more ideas you could also check out this and this for other quick meal options.
But I must say as the weather starts to warm up I tend to gravitate more towards salads and smoothies.
And even though we've had an exceptional warm Spring...this week has just not been cooperating thus maybe attributing to my less than motivated mood.
Do you guys tend to get a little less productive on cloudy, cool, dreary kind of days...Ughhh, it just makes me want to curl up on my bed and watch some Netflix..and I'm normally not a TV kind of person.
Usually I prefer to spend my free time outside or in the kitchen working on new recipes.
Cause sunshine, good food, and exercise all lead to a Happy, healthy, motivated person in my mind!
And even though my week didn't go exactly as planned, which is more of a struggle for my "Type A" personality to deal with...I still got a few extra little things accomplished that kind of made up for that in my mind. Whewww 🙂
Hence if you're in need of a few more Easy Meal ideas for those kind of days.
Here is a list below to help you out a little bit....And also this Asparagus Chickpea Salad would qualify as one...
Chickpea Masala Stew( this one may be on my menu tonight..haha!)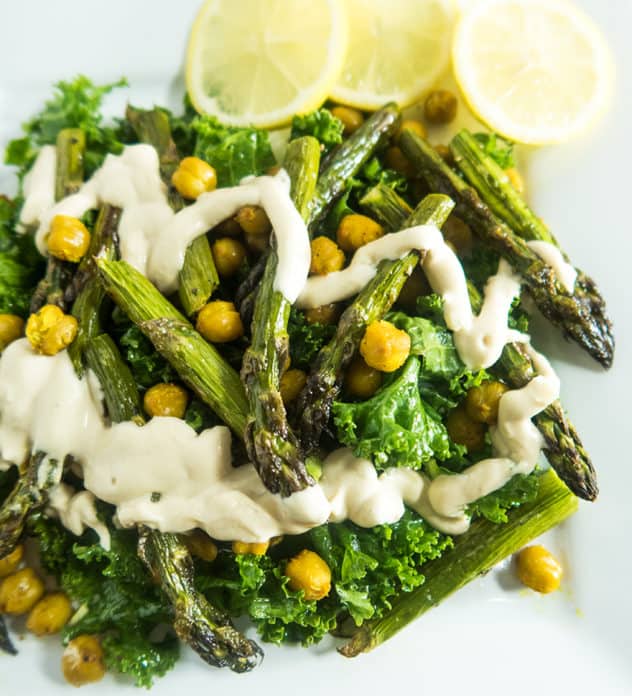 Asparagus Chickpea Salad with Tahini Dressing
Kale topped with roasted Asparagus, turmeric roasted chickpeas and a lemon tahini dressing.
Ingredients
1

box or can of chickpeas

11-14 ounces

2 ½

tbsp.

olive oil divided

½

tsp.

turmeric

1

bunch fresh asparagus

3

cups

chopped Kale

2

cloves

garlic finely minced

salt & pepper to taste

Dressing ingredients:

½

cup

tahini

¼

cup

fresh lemon juice

about 1 whole lemon

3

cloves

garlic finely minced

1 ½

tsp.

coconut aminos

½

tbsp.

maple syrup

5

tbsp.

water

salt to taste

dash of cayenne pepper
Instructions
Preheat oven 375 degrees.

Line large baking sheet with parchment paper.

Drain chickpeas and rinse with cool water, running hands through chickpeas to remove loose skins.

Place chickpeas in small bowl with ½ tbsp. olive oil, turmeric, salt & pepper to taste.

Combine well and place on baking sheet.

Trim bottom of asparagus by breaking off woody ends.

Then I broke them in half before roasting.

Place asparagus halves in bowl with 1 tbsp. olive oil, salt & pepper to taste and combine.

Spread asparagus out on baking sheet leaving space between them allowing them to roast.

Place chickpeas and asparagus in preheated oven.

Bake 15 minutes, remove from oven and rotate. Cook another 5-7 minutes.

Remove from oven and set aside.

Meanwhile rinse Kale and remove hard outer stems.

Place Kale in large bowl with 1 tbsp. olive oil, 2 cloves minced garlic and massage with hands.

Set aside.

Dressing instructions:

Place tahini, lemon juice, minced garlic, water, coconut aminos, maple syrup, salt and cayenne pepper in medium mixing bowl and stir until thoroughly combine.

Top prepared Kale with roasted asparagus, chickpeas and then tahini dressing.
Notes
You may have some extra tahini dressing which is great on so many things.
Perfect as a veggie dip or on other roasted veggies.