Roasted Cauliflower Stuffing is both low carb, gluten free and made with all the same flavors you would find in a traditional bread stuffing. Cauliflower roasted, then enhanced with sage, thyme, & rosemary for a guilt free stuffing that is great for the holidays. ( Vegan option )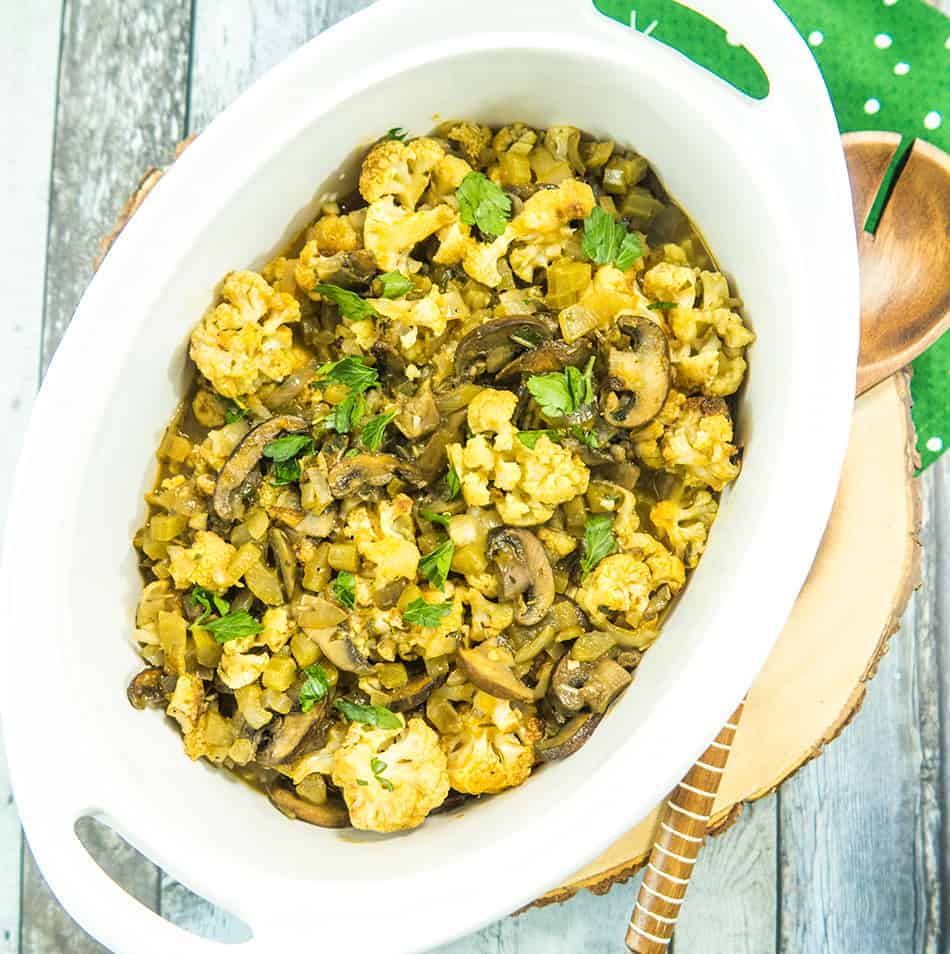 And if you're all about the stuffing like I am then you'll really wanna give this Roasted Cauliflower Stuffing a try...
So perfect served along side some creamy mashed taters!
Cause it's definitely a guilt free treat REALLY great with almost anything....  and not just reserved for the holidays.
The first time I made stuffing with cauliflower I knew it needed to be here on the blog <<< like yesterday.
But since sometimes I'm a little slow to the game, it took me this long to finally share this beauty.
And if you're a regular reader here at AFCJ then you know cauliflower is one of my go to veggies.
Since cauliflower tends to take on flavors you add to it, this makes it a versatile vegetable to use in so many dishes.
Anyway, if you're looking to lower a few of those carbs this holiday season then cauliflower should be on your short list!
And with all the yummy cookies & dips this stuffing is an easy swap!
Cause anything that can make the holidays a little EASY R, I'm in.
Why complicate what should be a joyous, relaxing occasion? So bring on the cauliflower my friends!
With this yummy, easy to prepare Stuffing. And let's celebrate all the reasons to make this stuffing.
Since Roasted Cauliflower Stuffing is....
Gluten free & Low carb
Providing you with an EXTRA serving of veggies
Allowing you to have an extra

cookie

or two
Flavored with all the traditional seasonings of the higher carb alternatives
Easily made vegan by swapping out butter with olive oil
Great with any meal and not just the Holidays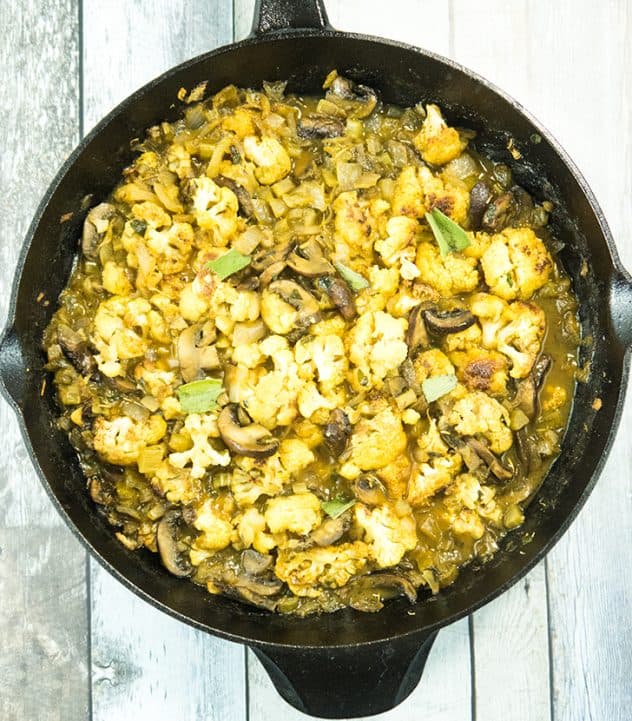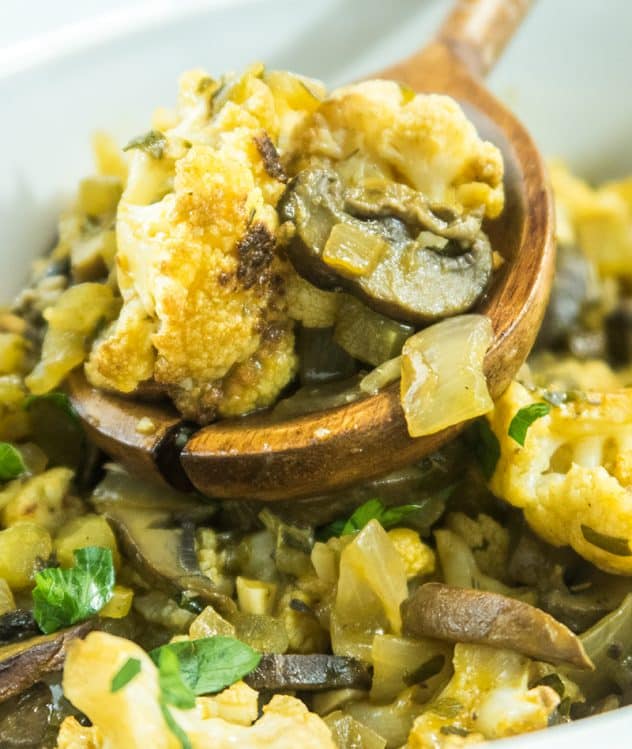 Enjoy!!!

Roasted Cauliflower Stuffing (Gluten Free)
Roasted Cauliflower serves as the base for a stuffing flavored with all the traditional seasonings found in a bread stuffing.
Ingredients
1

medium

cauliflower head

2

tbsp.

olive oil

4

tbsp.

butter

*

1

medium

yellow onion

2

celery stalks

3

cloves

garlic

minced

8

ounces

baby bella mushrooms

sliced

2

tbsp.

fresh chopped parsley

1

tsp.

dried sage

½

tsp.

dried thyme

½

tsp.

dried rosemary

2 ½

cups

vegetable broth

salt & pepper to taste
Instructions
Preheat oven to 400 degrees and line large baking sheet with parchment paper.

Meanwhile break cauliflower into bite sized florets, rinse, & pat dry.

Add cauliflower to mixing bowl, along with olive oil, salt & pepper to taste. Toss together gently.

Spread evenly on baking sheet & roast in preheated oven 15-20 minutes till lightly browned.

Remove cauliflower from oven and set aside.

Reduce oven temperature to 350 degrees.

Meanwhile melt butter in skillet on stove top over medium heat.

Add diced onion, diced celery, & minced garlic cloves. Cook about 7-8 minutes.

Then add sliced baby bella mushrooms, parsley, sage, thyme, & rosemary and cook another 1-2 minutes.

Add roasted cauliflower to veggie mixture along with the vegetable broth.

Return to the oven and bake an additional 25-30 minutes.

Remove from oven & serve immediately.
Notes
*Vegan option: use 2 tbsp. of olive oil in place of butter for sauteing veggies.
Can be made ahead and store covered in fridge for up to 5 days. 
Can garnish with additional chopped parsley.
Nutrition