This Homemade Cheddar Cheese Crackers recipe requires only 5 ingredients for a tasty snack cracker that is crunchy, delicious & highly addictive. A healthier version of one of my favorite crackers that are perfect for snacking on anytime (Gluten Free, Low Carb).
CHEESE CRACKERS....
So I'll be the first to admit that when it comes to crackers or snacks.... cheese crackers are an all time favorite of mine.
Always have been for as long as I can remember.
Many a goldfish & cheez-it crackers made there way into my shopping cart. Cause let's face it, what kid doesn't like cheese crackers
And even though I bought cheese crackers for the kids years ago, I still today reach for them. Only now I go for the healthier GF cheese crackers. haha!
Anyway, it's been on my mind for quite sometime now to try & make my own. Cause the price of healthy tasty gluten free snack crackers is just beyond ridiculous!
So in order to keep from going broke & still satisfy those cravings the natural thing to do would be learn to make them myself.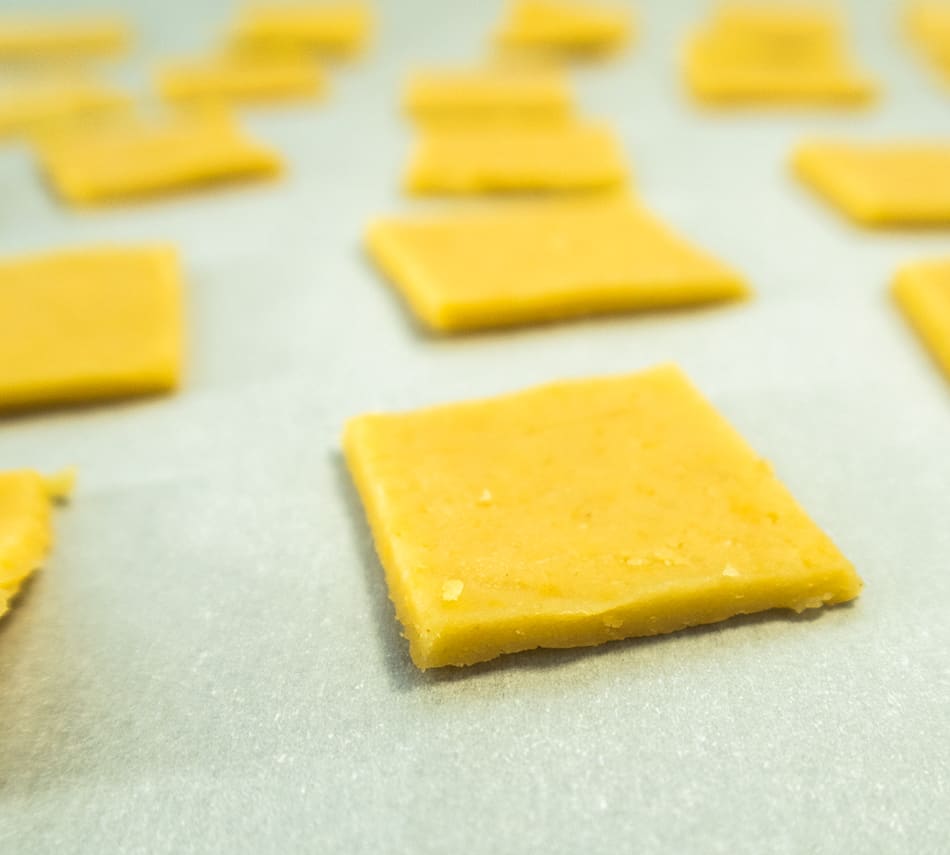 And I'm thinking, "how hard can it actually be to make a few snack crackers?".....Well a tad bit more difficult then reaching for a box in the store.
But let me tell ya, I think worth the effort. As long as you have a food processor and some parchment paper you're pretty much good to go on these.
Although the hubby had to be reminded Why I was making snack crackers when we could just go to the store for them, then he tasted these....need I say more.
Anywho, if you need reasons to make your own crackers I can certainly list them below.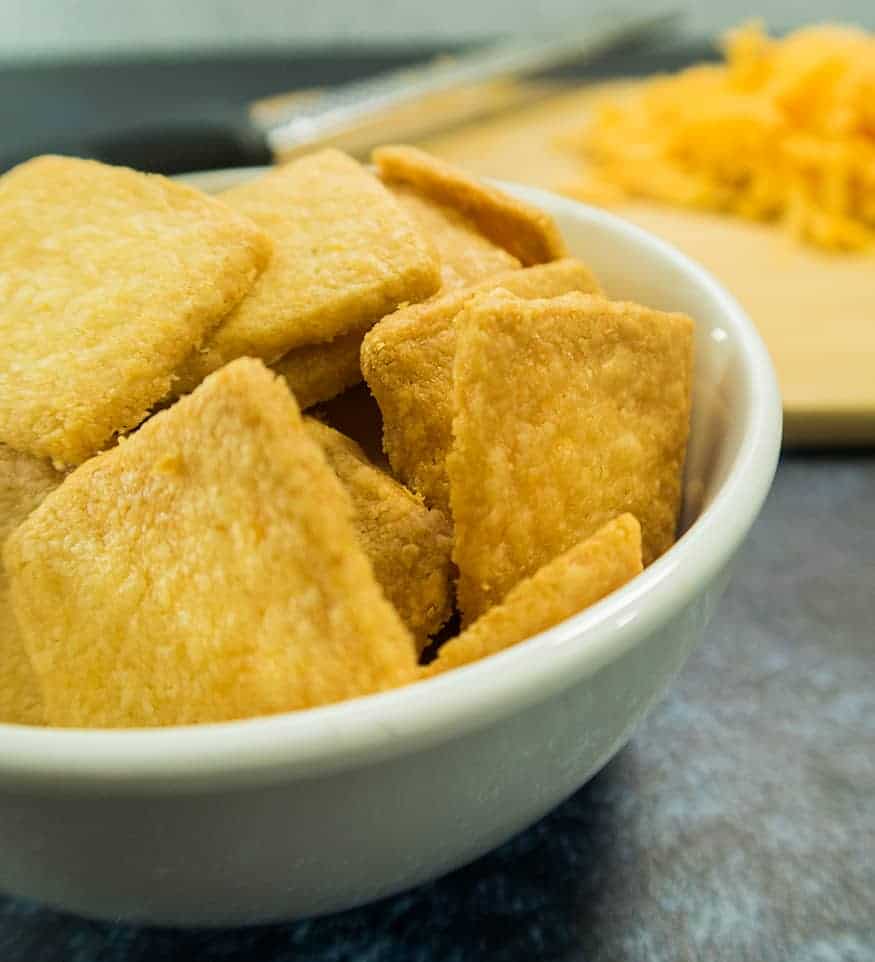 These Homemade Cheddar Cheese Crackers are.....
So much tastier & fresher then the store bought ones
Fun to make with the kiddo's...not the husband though
Crunchy & insanely delicious
Perfect as a snack anytime or even great with a sandwich or burger
A lot more economical to make then to buy ready made
Low carb & Gluten Free
OTHER SNACKS TO TRY....
Four Ingredient Parmesan Kale Crisps
Best Roasted Cauliflower Nachos
Dill Pickle Dip (Low Carb, GF, Easy)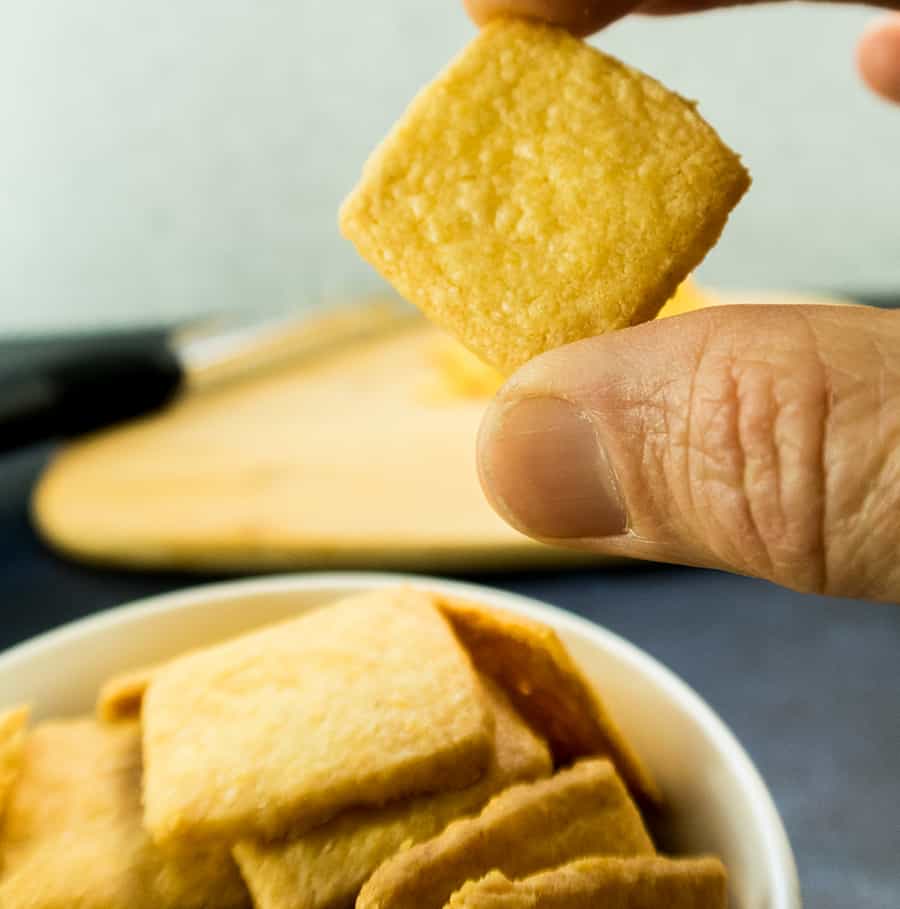 Until next time-xoxo
ENJOY!
Homemade Cheddar Cheese Crackers (Gluten Free)
These Homemade Cheddar Cheese Crackers are crunchy, cheesy, & highly addictive. A healthier alternative to a tasty snack cracker perfect for any occasion.
Ingredients
2

cups

blanched almond flour

½

tsp.

garlic powder

¼

tsp.

cayenne pepper

4

tbsp.

butter

cold

2

cups

sharp cheddar cheese

grated

3

tbsp.

water

cold
Instructions
Put almond flour, garlic powder, & cayenne pepper in food processor and pulse several times.

Add cold butter and pulse till crumbly & combined.

Then add grated sharp cheddar cheese & pulse till it starts to form a ball.

Gradually add the water pulsing after each tablespoon.

Remove ball from food processor and wrap in plastic wrap and refrigerate at least 1 hour prior to use.
Baking instructions:
Preheat oven to 350 degrees & line large baking sheet with parchment paper.

You can bake crackers as needed dividing the ball into several sections.

Place one section between two pieces of parchment paper and roll out to about 1/16 inch thickness or your desired thickness for crackers.

Cut into square shapes using pizza cutter or sharp knife and place on baking sheet.

Bake in preheated oven 10-12 minutes until slightly browned.

Allow to thoroughly cool and then store in airtight container several days.
Notes
I found it easier to cut the shapes out if I put the dough back in the freezer for at least 15 minutes after rolling it out between parchment paper.
Servings are based off size, desired shapes(can make circles if you like) & thickness you make the crackers so that can vary.
*Nutrition Disclaimer
Nutrition
Serving:
1
serving
|
Calories:
208
kcal
|
Carbohydrates:
2
g
|
Protein:
8.6
g
|
Fat:
18.5
g
|
Saturated Fat:
9.9
g
|
Cholesterol:
45
mg
|
Sodium:
219
mg
|
Potassium:
33
mg
|
Fiber:
0.8
g
|
Sugar:
0.2
g
|
Calcium:
206
mg