Broccoli Parmesan Spinach Balls are a tasty, portable snack or appetizer. Can also easily be served as a main course option with any of your favorite sides. Both Vegetarian & Gluten Free.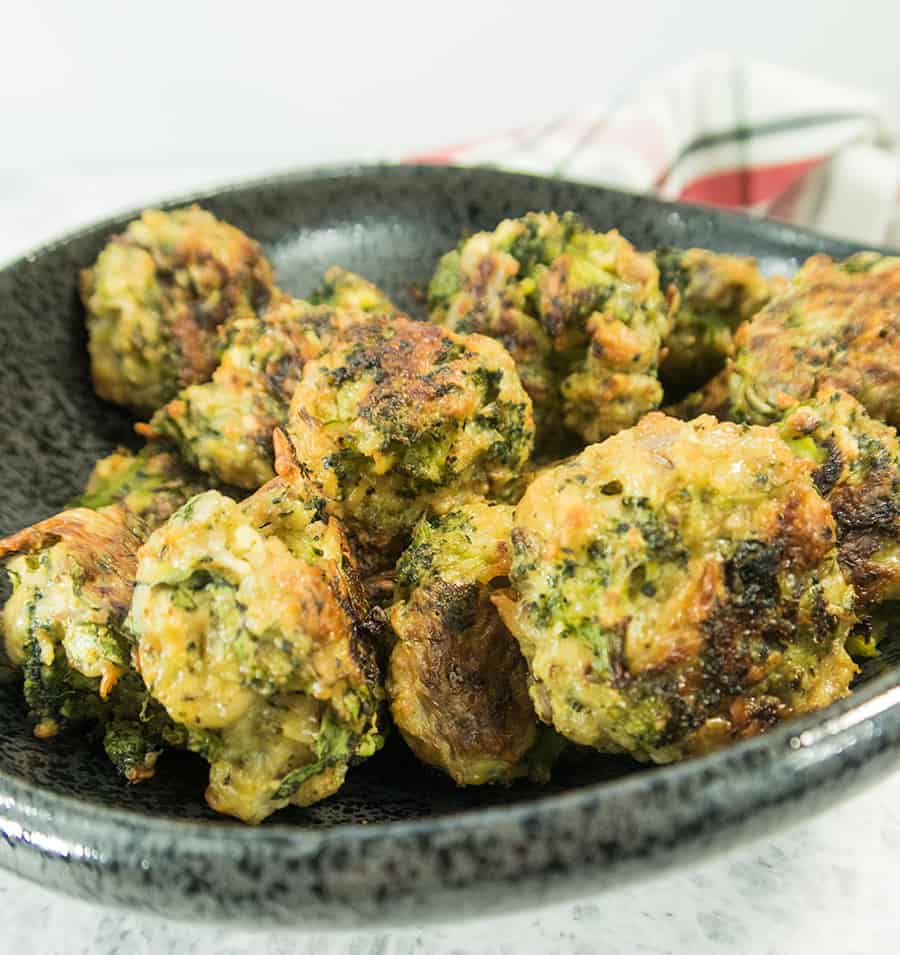 Spinach Balls with Broccoli & Parmesan...
So as I'm sitting here trying to get my thoughts together and share with you just how wonderful these Broccoli Parmesan Spinach Balls are, my mind just seems to keep wandering.
So I'm not sure if it's the whole Daylight Savings thing and losing the hour sleep or if I just have a lot of other things on my mind.
And it doesn't help if you start sharing your thoughts and you have a quick loss on your WiFi connection and have to start over.
Apparently I need to hit save more frequently.
So anyway, even though I really enjoy the extra hour of daylight in the evening I'm not so sure I like readjusting my sleep patterns.
I mean sleep is so crucial to our overall health. They say that Daylight Savings time can have a lot of negative effects on people(whoever they are).
So why oh why would we want to do this??
Anywho... let's get back to Spinach Balls.
They just happen to have all my favorite goodies packed into one little ball.
I wish I had one of these little babies RIGHT now. They're really so good to snack on and I also like to eat them cold out of the fridge, although that night I had them for dinner.
So many options for these, but they're just super tasty and nutritious and you can't argue with that.
I opted to make my own bread crumbs for these since I had some gluten-free bread in the fridge I needed to use.
And since bread crumbs are super Easy to make..... You could also use GF stuffing mix bread crumbs and those would work equally as well.
But if I haven't convinced you quite yet let me just tell you all about these delicious little bite sized treats.
But if I haven't convinced you quite yet let me just tell you all about these delicious little bite sized treats.
Broccoli Parmesan Spinach Balls are.....
Fun little bite sized treats perfect for snacking or appetizers
Also perfect as a main course option
Loaded with lots of healthy veggies
Great served with your favorite dipping sauce
Kid friendly
Gluten Free & Vegetarian
OTHER APPETIZERS TO TRY....
Spicy Baked Cauliflower Cheese Bites (Low Carb)
Warm Creamy Spinach Dip (Gluten Free)
Lemon Thyme Baked Ricotta Cheese Dip
Until next time-xoxo

ENJOY!
Broccoli Parmesan Spinach Bites
Broccoli and Spinach together in a neat little ball that can easily serve as an appetizer, snack, or dinner.
Ingredients
1

large bunch broccoli trimmed

4

slices

gluten-free bread*

½

tsp.

garlic powder

oregano, and basil

4

ounces

parmesan cheese shredded

about 1 cup

4

cloves

garlic finely chopped

½

cup

onion finely chopped

handful of spinach leaves chopped

about 1 cup

4

eggs beaten
Instructions
Preheat oven 350 degrees

Trim broccoli and steam until slightly wilted but still a little crunchy. Remove from heat and set aside to slightly cool.

Meanwhile lightly toast bread for crumbs. Put bread in food processor to make crumbs. Add garlic powder, oregano, and basil to bread crumbs.

Chop steamed broccoli into small pieces and put into medium mixing bowl. Add bread crumbs, garlic, onion, parmesan cheese, beaten eggs and chopped spinach.

Mix and form into balls. Place on baking sheet and bake in preheated oven about 30 minutes
Notes
You could use about ½ cup to ¾ cups of store bought bread crumbs depending on the texture of them or you could also use any kind of bread to make your own bread crumbs.
**Updated** This post has been updated with new pictures. It was originally posted in May 2016 but wanted to showcase it again with new pictures. The recipe & post words remain the same.