This Mock Tuna Chickpea Salad is ready in under 15 minutes and is perfect on a wrap for lunch. Also great for snacking on with crackers or even topped on a salad for an easy dinner. Gluten Free, Vegan option, Easy, Delicious.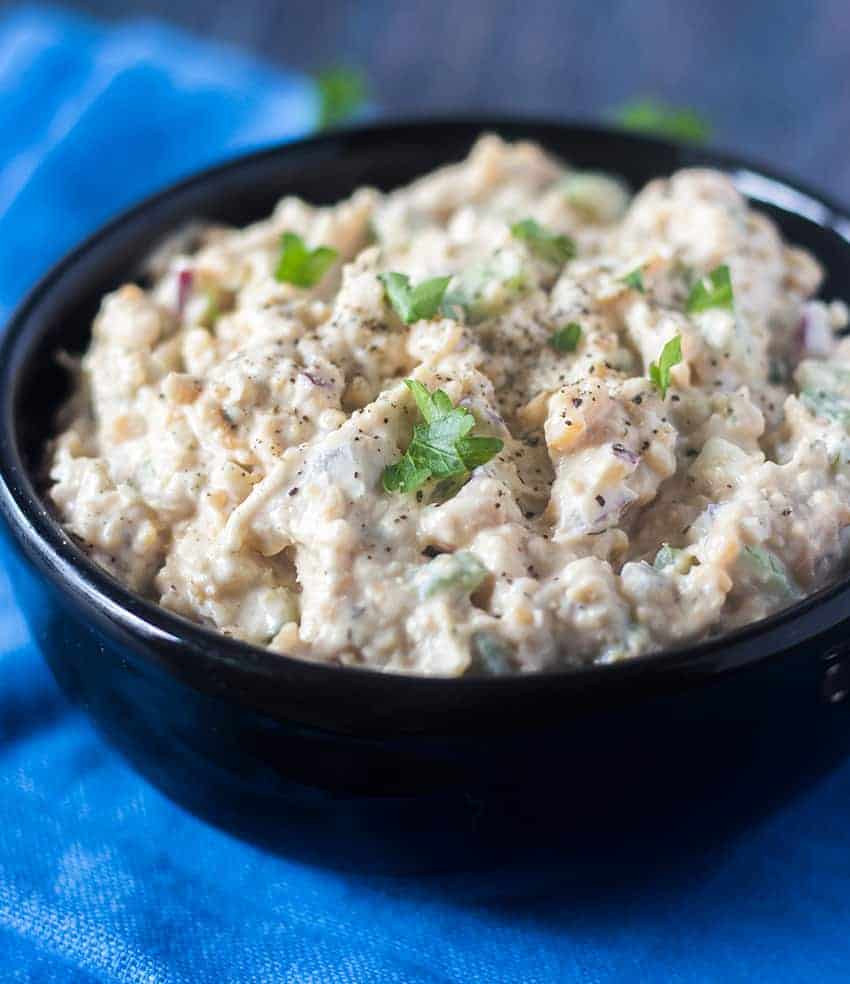 Hey Guys... if you're looking for an easy, delicious vegetarian version for tuna salad then you've ARRIVED.
Cause this stuff is it, the bomb 👐 ... healthy, tasty and will be your go to for easy nutritious meals.
I seriously make this stuff all the time... especially in the spring and summer since no stove required.
And with less then 10 easy to find ingredients there is no reason not to make a double batch.
Plus most of the stuff you probably regularly have on hand.
HOW TO MAKE MOCK "TUNA" CHICKPEA SALAD
First you'll wanna drain and rinse a can of chickpeas...
Next I like to pulse them a few times in the food processor to get the perfect texture...
But you can also mash them with a fork or potato masher if you prefer.
Once you have mashed chickpeas just put them in a bowl with remaining ingredients and stir to combine.
See... told ya it was super simple. 😉
And it will look something like this before adding the mayo and seasonings.
CAN I MAKE SUBSTITUTIONS
This could easily be made Vegan just by using vegan mayo but other than that I wouldn't recommend switching or leaving anything out.
I've actually had it with the vegan mayo and it's equally as good.
WAYS TO SERVE CHICKPEA SALAD
Topped on a salad
Spread on sandwich bread or bun
Or with crackers or chips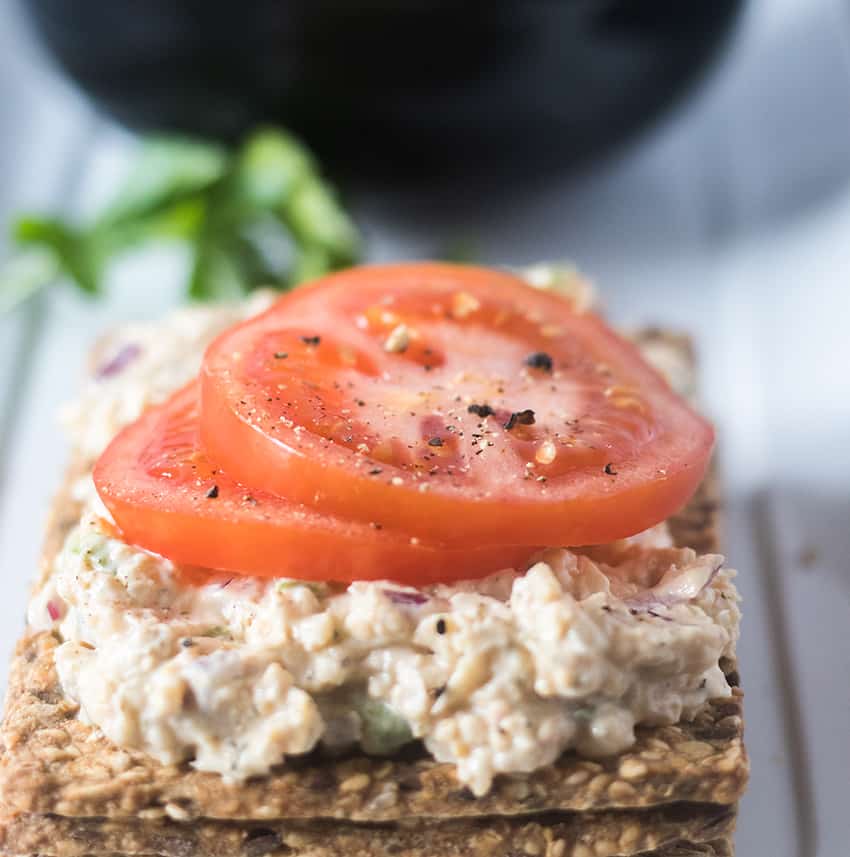 Ya see Why I can easily make a complete meal out this stuff...
So many yummy ways to serve it up... just get a little creative and top with all your FAV's.
And if you're into wraps like we are... then give it a try with these homemade Soft Almond Flour Toritllas.
They're one of the most popular recipes here on AFCJ... so you should really find out why.
And you'll probably be making them on the regular as well to hold all your favorite goodies...
AND guess what? Not only are the wraps delicious with this Mock Tuna Chickpea salad but they're also Low carb.
So if you want a tasty gluten free Low carb wrap be sure to check them out.
MORE CHICKPEA RECIPE IDEAS
Cauliflower & Chickpea Patties
Lemony Roasted Broccoli Chickpea Salad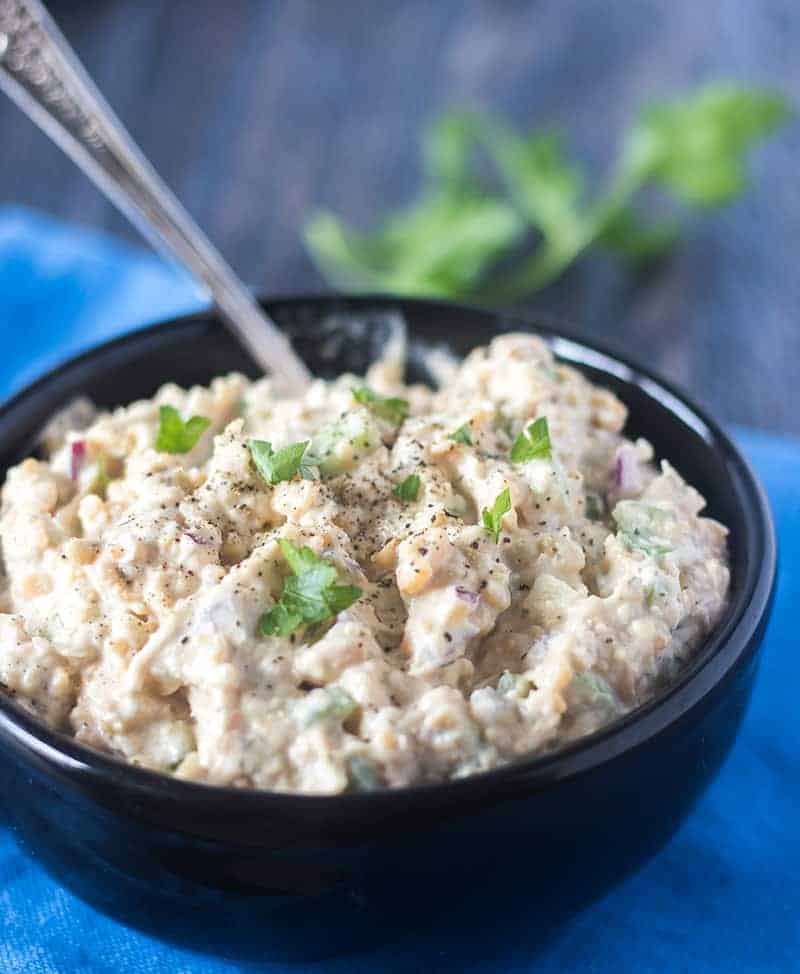 AND IF YOU MAKE THIS RECIPE PLEASE BE SURE TO LET ME KNOW IN THE COMMENTS BELOW…..
I'd love to hear if you make this & how you like it. Plus please be sure to include a star
rating.
Until next time-xoxo

Mock Tuna Chickpea Salad (Gluten Free, Easy)
This Chickpea salad comes together in under 15 minutes and is great topped on a salad, sandwich bread, wraps or even crackers.
Ingredients
1

15.5 ounce can

chickpeas drained and rinsed

2

stalks

celery finely diced

¼

large

red onion finely diced

2

cloves

garlic finely minced

⅓ cup

+2 tbsp

mayo

1

tbsp.

dijon mustard

2

tsp.

apple cider vinegar

¼

tsp.

dried dill weed

salt & pepper to taste
Instructions
Drain chickpeas and rinse with cold water.

Pulse chickpeas in food processor several clicks till mashed to desired consistency.

Meanwhile finely dice celery, onion, and garlic

Add mashed chickpeas to bowl along with remaining ingredients and stir till everything is thoroughly incorporated.

Serve immediately or store in a covered container in fridge for up to a week.
Notes
Vegan option: sub vegan mayo for regular mayo
Nutrition