These Cauliflower & Chickpea Patties are tasty little vegetarian patties loaded with lots of protein & healthy nutrients. They're perfect served on a bun with your favorite toppings or alone as a snack. Gluten Free & Vegetarian.
**Updated** It was originally posted in April 2016. New pictures added but recipe still remains the same
And since these Cauliflower & Chickpea patties are great served alone, any leftovers make the perfect snack or easy quick lunch!
Especially since they taste just as yummy cold...right outta the fridge!
As I'm writing this post, I'm also enjoying a warm rainy Spring day. But I also have the pleasure of looking out my back door at a nice view while doing this...
So friends it Really doesn't get much better than that. 🙂
And this Cauliflower & Chickpea Patties is a recipe I've been trying to master for a while. Cauliflower just happens to be one of my favorite veggies so I experiment with it a lot.
Spicy Crock Pot Cauliflower Mac & Cheese is another easy and tasty recipe using cauliflower, and it just so happens to be one of the most popular recipes here on AFCJ.
But add a few chickpeas with your cauliflower for a great tasting Patty that you can eat alone or top with some of your favorite ingredients.
Like tomatoes, & red onions just to name a few. Whatever your favorite veggie burgers toppings are.
Plus since these are great cold you'll definitely want to make sure you have leftovers. Since these Cauliflower & Chickpea Patties are high in protein they make the perfect post workout snack.
And it's always nice to have healthy options readily available in the fridge so you don't allow yourself to get hungry and chose unhealthy options.
I like to limit what I consider unhealthy choices in my fridge and cabinets. This way I'm less likely to eat and drink things I know I probably shouldn't.
You know how your Mamma always told you to eat your veggies. Well I think she was probably right on that one. 😆
So let me just sum up all the reasons Why you're going want to try these patties.
These Cauliflower & Chickpea Patties are....
High in protein
A great post work-out snack
Perfect served warm or cold out of the fridge
Delicious with all your favorite veggie burger toppings
Another easy way to incorporate more veggies in your diet
Gluten Free & Vegetarian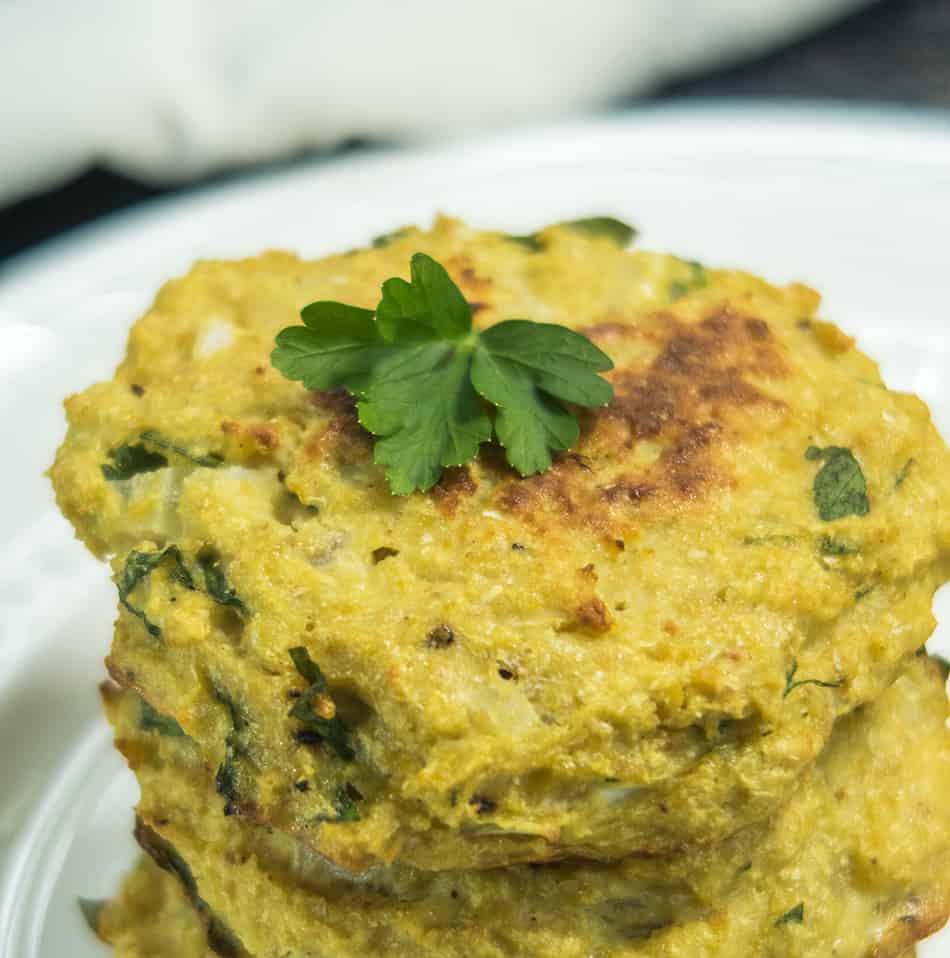 📖 Recipe
Cauliflower & Chickpea Patties
Cauliflower and chickpeas combined into a tasty little patty perfect for dinner or even a quick snack.
Ingredients
½

head of cauliflower broken into florets

1

box or can chickpeas

11-14 ounces

1

small yellow onion chopped

2-3

tablespoons

fresh chopped parsley

1

tsp.

garlic powder

½

tsp.

onion powder

salt & pepper to taste

dash of cayenne pepper

3

eggs beaten
Instructions
Preheat oven 375 degrees

Chop cauliflower florets and chickpeas in food processor.

Put in medium mixing bowl. Add remaining ingredients and combine well.

Shape into equal size patties and place on baking pan.

Bake 30 minutes flipping over once half way through cooking time.
Notes
I used ice cream scoop to make equal sized patties. And then just lightly pat them down.
Nutrition