Vegetarian Philly Style Zucchini Boats are filled with all the flavors of a Philly Style sub without all the carbs. Loaded with sauteed bell peppers, onions,& mushrooms and then topped with pepper jack cheese. Vegetarian and Gluten Free.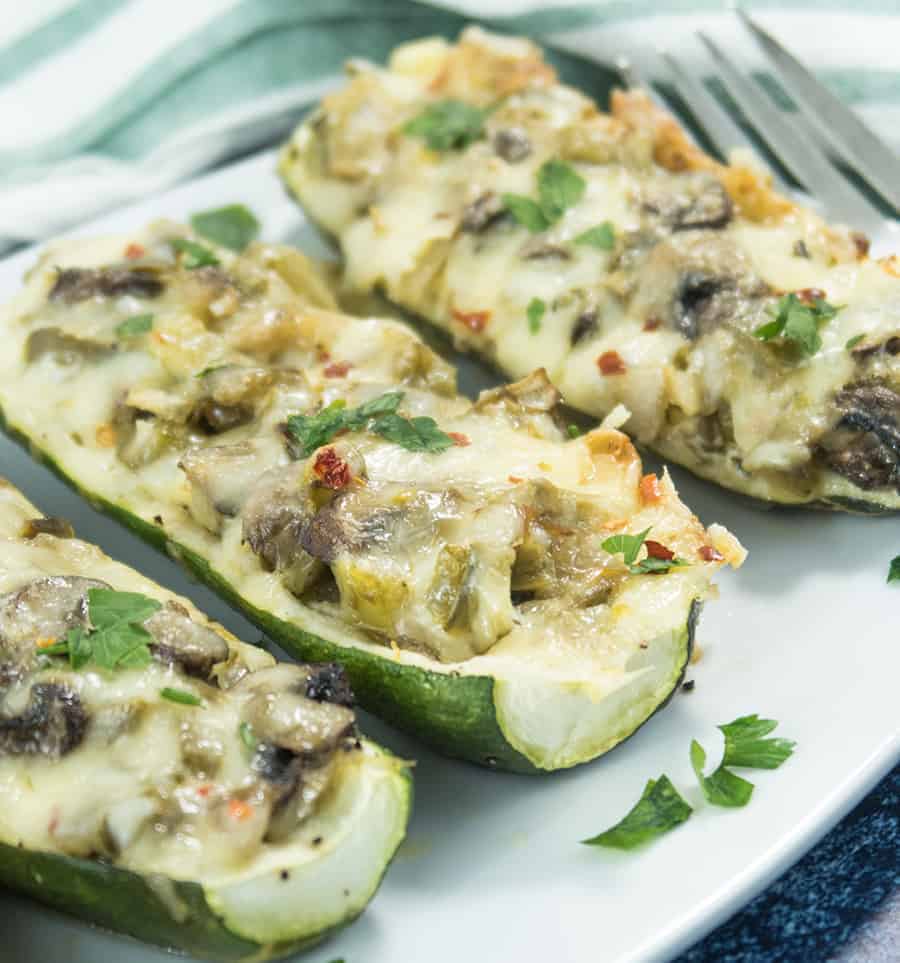 **Updated** This post has been updated with new pictures. It was originally posted in May 2016 but wanted to showcase it again with some better pictures. The recipe & post words remain the same.
I must admit I'm a little bit obsessed with anything Philly Style. So I was pretty sure I would love these flavors all drowning in a little Zucchini boat.
So here you have it Vegetarian Philly Style Zucchini Boats in all their glory.
I have gotten to the point where I'm using Zucchini almost as much as Cauliflower but not quite there yet.
If you're into the Zoodle making craze one of my favorite recipes for that is Zoodles with Cauliflower Meatless Balls.
It reminds me of having one of my favorite dishes as a child. Well actually way into my adulthood I've always loved Spaghetti and Meatballs.
And going gluten free and vegetarian doesn't mean you have to give up all your favorite dishes.
My theory is that you can make all your veggies tasty and in so many different ways as to never get bored or make you feel like you're missing out on something.
So if you've never tried Zucchini prepared like this I hope you'll give these Vegetarian Philly Style Zucchini boats a try.
You may want to double this recipe for these Vegetarian Philly Style Zucchini Boats cause I think....
Four of these boats will not be enough once you taste them
They're super Easy to make & even great leftover
Low carb friendly
Guilt free but loaded with sooo much flavor
Great way to eat your veggies
Gluten Free & Vegetarian
Enjoy!

📖 Recipe
Vegetarian Philly Style Zucchini Boats
Zucchini packed with peppers, mushrooms, onions and garlic are a great tasting dinner option.
Ingredients
2

medium Zucchini

1

yellow onion

4-5

cloves

garlic

1

green bell pepper

6-7

baby bella mushrooms

2

tbsp.

olive oil divided

1

tsp.

garlic powder divided

salt & pepper to taste

2

ounces

cream cheese softened

2

tbsp.

plain greek yogurt

1

tbsp.

fresh chopped parsley

¾ -1

cup

pepper jack cheese shredded*

optional:

dash red chili pepper flakes
Instructions
Preheat oven 350 degrees

Grease casserole dish with ½ tbsp. olive oil.

Rinse Zucchini, cut ends off and cut in half and hollow out insides with spoon. Place in casserole dish and drizzle inside with olive oil and salt & pepper to taste.

Meanwhile chop onion, garlic, bell pepper, and mushrooms and place in saute pan over medium high heat with 1 tbsp. olive oil, ½ tsp. garlic powder and salt & pepper to taste. Cook 8-10 minutes until translucent. Remove from heat and set aside.

In medium mixing bowl combine cream cheese, yogurt, fresh parsley, garlic powder and combine well.

Evenly spread thin layer of cream cheese mixture in each Zucchini boat, then top with mushroom mixture and sprinkle evenly with grated pepper jack cheese

optional: sprinkle with dash of red chili pepper flakes

Cover and bake in preheated oven 30 minutes. Then remove cover and bake an additional 5-10 minutes till slightly browned.
Notes
you can easily double the recipe if you need more or adjust the amount of stuffing you put in them. I just like mine really loaded.
* Or Monterey Jack cheese