Balsamic Caramelized Onion Hummus is sweet, savory, and velvety smooth. Onions sauteed slowly until they develop a nutty like flavor & brown color. Then finished off with a drizzle of balsamic vinegar. This takes your hummus from plain to extraordinary. Gluten free & Vegan option.
CARAMELIZED ONION HUMMUS
And extraordinary this is....I mean who doesn't love caramelized onions? Sweet, savory and perfect on sooo many things.
It surely has to be one of my favorite guilt free pleasures along with hummus!
So recently when I was out shopping and needed a snack I tried some hummus with caramelized onions and was immediately hooked.
But since I usually prefer the homemade hummus to store bought versions making this one at home I knew would be phenomenal. Freshly made caramelized onions & hummus,.....Yes Please 🙂
I knew that I had to re-create this one soon and was wondering Why I hadn't already thought of this.
After all since hummus is really easy to make and with so many varieties you'll never tire of eating it.
And now I can tell you for sure that this Balsamic Caramelized Onion Hummus has to be my new favorite flavor...without a doubt my friends!
So if you want to take your snacking game to the next level of Yum, you're REALLY going need this stuff.
And did I mention that it's also really good for you. It provides a good source of plant based proteins and is also high in vitamins & minerals.
Plus, there are so many delicious ways to enjoy hummus..Whether it be on gluten free crusty baguettes, crackers, veggies or even as a sandwich spread.
Anyway for all my hummus loving friends out there & even if you think you don't like hummus....Please, please give this one a try.
Since Balsamic Caramelized Onion Hummus is....
Sweet, savory and velvety smooth
Perfect for an appetizer, snack, dinner, or lunch
Pretty much perfect anytime
A great source of Plant based proteins
Also high in Vitamins & Minerals
Sure to become your new favorite hummus flavor
Gluten free & Vegan option
OTHER HUMMUS RECIPES.....
Black Eyed Pea Hummus (Vegan, Paleo & Gluten Free)
Black Bean Hummus Recipe (Vegan, GF, Easy)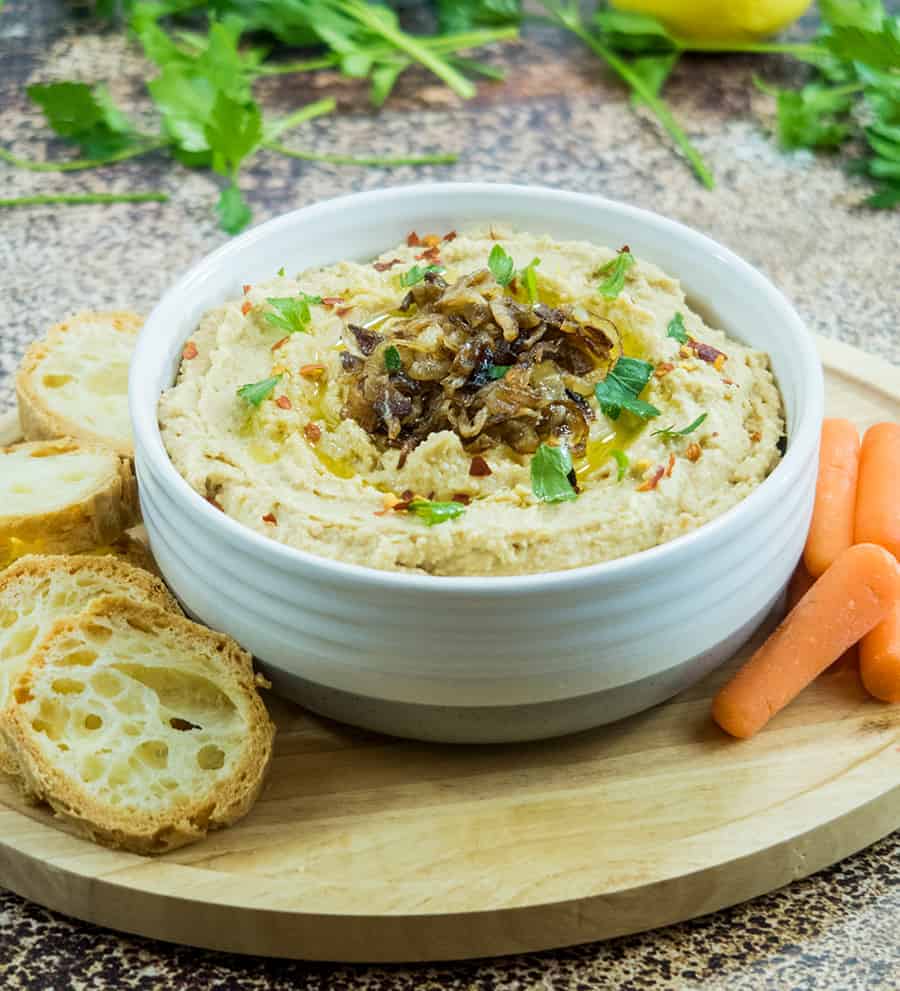 AND IF YOU TRY THIS RECIPE PLEASE BE SURE TO LET ME KNOW IN THE COMMENTS BELOW…..
I'd love to hear if you make this & how you like it. Plus please be sure to include a star rating.
Until next time-xoxo
Enjoy!!

📖 Recipe
Balsamic Caramelized Onion Hummus
Balsamic Caramelized Onion Hummus is sweet, savory, and velvety smooth. Onions caramelized with a nutty like flavor and golden brown color and then added to this hummus.
Ingredients
1

large

yellow onion

thinly sliced

1

tbsp.

butter

use all olive oil for vegan option

½

tbsp.

olive oil

½

tsp.

salt

2

tbsp.

balsamic vinegar
3

cups

cooked chick peas

drained & rinsed

¼

cup

lemon juice

(1 lemon)

⅓

cup

tahini + 1 tbsp.

2

cloves

garlic

minced

¼

cup

olive oil

5

tbsp.

water
Instructions
Melt butter with olive oil in sautee pan over medium high heat.

Meanwhile peel and thinly slice large onion and separate rings. Add to pan and cook about 10 minutes.

Then add salt and stir. Reduce heat to medium low and continue to cook about 20 more minutes stirring several times during cooking.

When onions are starting to turn a golden brown during the last 1-2 minutes of cooking drizzle with balsamic vinegar.

Remove from heat and set aside.
Add chickpeas, lemon juice, tahini, garlic, olive oil and caramelized onions(reserving spoonful for topping) to food processor and pulse till combined.

Gradually add water till you get desired consistency.
Notes
Vegan option: when caramelizing onions just use all olive oil and omit butter.
Other optional garnishes for hummus include olive oil, parsley, & red chili pepper flakes.
Can be stored covered in fridge for up to seven days.
Nutrition