This Zoodle & Grilled Corn Salad is the perfect summer salad. Zucchini noodles, grilled corn and  then dressed with a cilantro lime dressing. Vegan option & Gluten Free.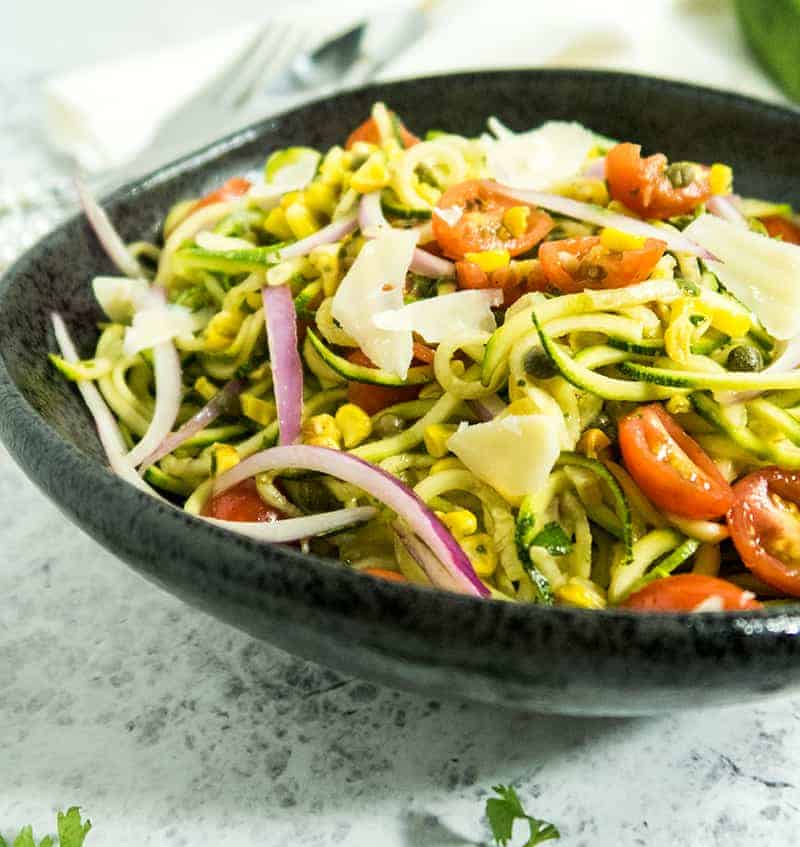 Hello and Happy June 1st!
Whoa there... can you believe we are already to JUNE?
As much as I enjoy all things June..vacations, BBQ's, fire flies, Oh and let's not forget the hubby's B-Day is this month, I just can't grasp it's already here.
Before you know it we will be bringing out the Holiday decorations again.
Okay, so I guess I'm getting a little ahead of myself.
I'm going slow down and really try and Enjoy all things June, July, and August have to offer.
And one of them for sure is this Zoodle & Grilled Corn Salad & of course potato salad to go with it.
Cause nothing says Summertime to me like some grilled corn on the cob.
Do you guys find yourself grilling some of the same things all summer?
Well corn just happens to be one of my go to foods to grill.
And since I'm already firing up the grill I tend to throw a few extra corn cobs on there. Since leftover grilled corn is so flavorful and goes great in so many things <<<grilled corn recipe coming soon guys!
Of course I'm also a big fan of zoodles aka zucchini noodles.
So when I had some leftover corn from my last grilling session and zucchini in the fridge I needed to use this Zoodle & Grilled Corn Salad was born.
Good thing...since being a food blogger I tend to have lots of leftovers in the fridge and produce that I'm not quite sure what I'm going to turn it into.
Believe it or not planning meals has never been my strong point..Most of the time I just buy what looks fresh and then kind of wing it.
So since this is what was in my fridge it seemed like the logical choice.
And this Zoodle & Grilled Corn Salad is...
Everything I love about summer all in one bowl
Perfect for warm summer months
Fun to make and eat
Easy to prepare and even better if made ahead
Gluten Free with Vegan option
Zoodle & Grilled Corn Salad
Zucchini noodles and grilled corn dressed in a cilantro lime dressing for the perfect make ahead summer salad.
Ingredients
2

medium zucchini spiralized

6-8

grape tomatoes sliced in half

1-2

grilled corn on the cobs cooled

¼

large red onion sliced

optional toppings:

shaved parmesan cheese

1 ½

tbsp.

capers

Cilantro lime dressing ingredients:

3

cloves

garlic

handful of fresh cilantro

juice of 1 lime

about ¼ cup

2

tsp.

balsamic vinegar

¼

cup

olive oil
Instructions
Rinse zucchini and slice off ends.

I used thin spiral blade for the noodles.

Set aside in colander as they will release some liquid.

Meanwhile cut up grape tomatoes, slice kernels off corn cob and slice red onion.

And if using parmesan shave about ¼ cup.

For the Cilantro lime dressing I used a food processor*

Place garlic cloves, cilantro, lime juice, vinegar, olive oil, salt & pepper to taste and pulse till combined.

To make the salad, pat dry the zucchini noodles and place in large salad bowl.

Add tomatoes, grilled corn, red onion, and optional capers.

Top with cilantro lime dressing and mix well.

Cover and store in fridge till ready to serve.

Top with optional parmesan when serving.
Notes
* you could also use a blender for the salad dressing
you can serve immediately but it develops more flavor if allowed to sit several hours in the fridge before serving.