Spaghetti Squash Mushroom Pie is packed with so much flavor that you won't even notice it's low carb friendly, Vegetarian and Gluten Free.
Okay, so sometimes you just have to go for it. You're thinking...or at least I am..that Spaghetti Squash can really become one of your new favorites.
I mean after all I've kind of overloaded you with the cauliflower thing lately. So I decided lets take a short break from that and come back to it later. And I do mean short. Can't totally stray away from all my cauliflower madness.
This time of year, I start thinking of all the Fallish kind of stuff. Pies, Squash, Baking, preparing for the holidays in general.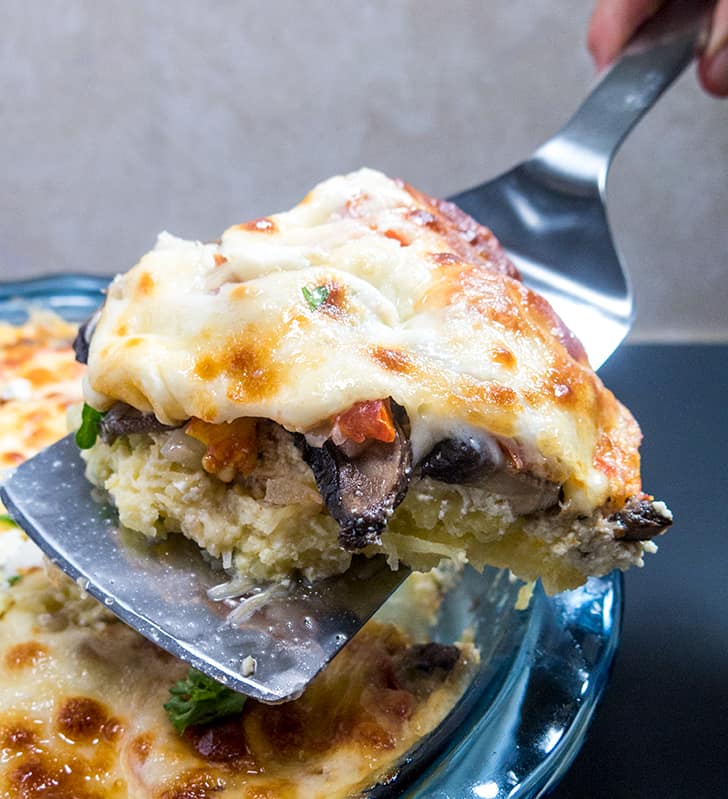 And what better to have at any holiday gathering than a Pie...Yes, I am talking about Spaghetti Squash Mushroom Pie.
But really Holidays say special to me. "SPECIAL", Like you may want to pump it up a notch. Pull out all your best recipes and showcase them to your Family and Friends.
It might be the one time of year that you see Auntie or Grandma. You're asked to bring the Pie and uhmm of course you should show up with this Spaghetti Squash Mushroom Pie.
Wont' Grandma be proud..At least I hope so. I didn't really get to spend a lot of time with my Grandparents growing up since we never really lived close to them.
But I do have fond memories of our family vacations being packed up in the ole station wagon and taking that trip to visit them. That forever long car ride and I mean couple day car ride. Where you pack the picnic basket and stop at the roadside picnic areas.
Do families even do that any more? And connecting with family and friends never involved the internet. Ohhh noo, am I really sounding like that old person I swore I'd never become?
So test this one out before being asked to bring the pie and mix things up a little bit at the next Family gathering 🙂
And all the reasons you should include this at your holiday gathering:
Make Grandma and Auntie proud 🙂
Healthy, low carb pie so you can have two pieces
Switch up family gatherings with something different
Spaghetti Squash Mushroom Pie
Spaghetti Squash Mushroom Pie is a healthy, tasty, lower carb pie perfect for any occasion.
Ingredients
I medium/large Spaghetti Squash

4

eggs divided

½

cup

shredded parmesan cheese

½

large yellow onion chopped

yield about ¾ cup

3

cloves

garlic finely chopped

portabella mushrooms

about 6 ounces*

1 ½

tbsp.

olive oil divided

salt & pepper to taste

1 ½

cups

ricotta cheese

1

tbsp.

fresh chopped parsley

½

tsp.

garlic powder

2

medium tomatoes sliced

1 ½ - 2

cups

shredded mozzarella cheese
Instructions
Preheat oven to 400 degrees

Lightly grease pie pan with olive oil and set aside.

Line large baking sheet with parchment paper.

Cut spaghetti squash in half lenghtwise and scoop out all the seeds.

Place spaghetti squash flesh side down on baking sheet with a little bit of water.

Cook in preheated oven 30-40 minutes until you can easily pierce with fork.

Remove from oven, flip over and allow to cool about 10 minutes.

Lower oven heat to 350 degrees.

With fork pull strands from squash and place in mixing bowl, add ½ tbsp. olive oil and combine. Once squash is cool enough(about 5 more minutes) to handle put in colander and squeeze out any excess water.

Put back in mixing bowl, add 3 beaten eggs, parmesan cheese and combine well.

Press mixture evenly in pie pan and bake in preheated oven 15 minutes.

Remove from oven and set aside.

Meanwhile heat 1 tbsp. olive oil over medium heat, add chopped onion, garlic and cook 2-4 minutes. Then add portabella mushrooms and cook about 6-8 minutes longer.

In separate small mixing bowl combine ricotta cheese, chopped parsley, 1 beaten egg, garlic powder and salt & pepper to taste. Mix well.

Spread Ricotta mixture evenly over top of pie.

Then top with mushroom onion mixture, tomatoes, and mozzarella cheese.

Bake 30-35 minutes till bubbly and brown.

Allow to set at least 10 minutes before slicing.
Notes
* can use any type of mushrooms you prefer( I used a 6 ounce pack of thick pre-sliced portabella mushrooms)
The spaghetti squash can be made ahead or even the day before.
Pie keeps covered in fridge for up to a week and reheats well as leftovers.