This Quinoa Brussels Sprouts Beet Salad is a great salad for the Wintertime or actually anytime. Roasted Brussels sprouts and beets lightly dressed with lemon and olive oil. Then topped on Quinoa mixed with greens. Easy to prepare ahead and perfect for dinner or a quick go to lunch (Vegan and Gluten Free).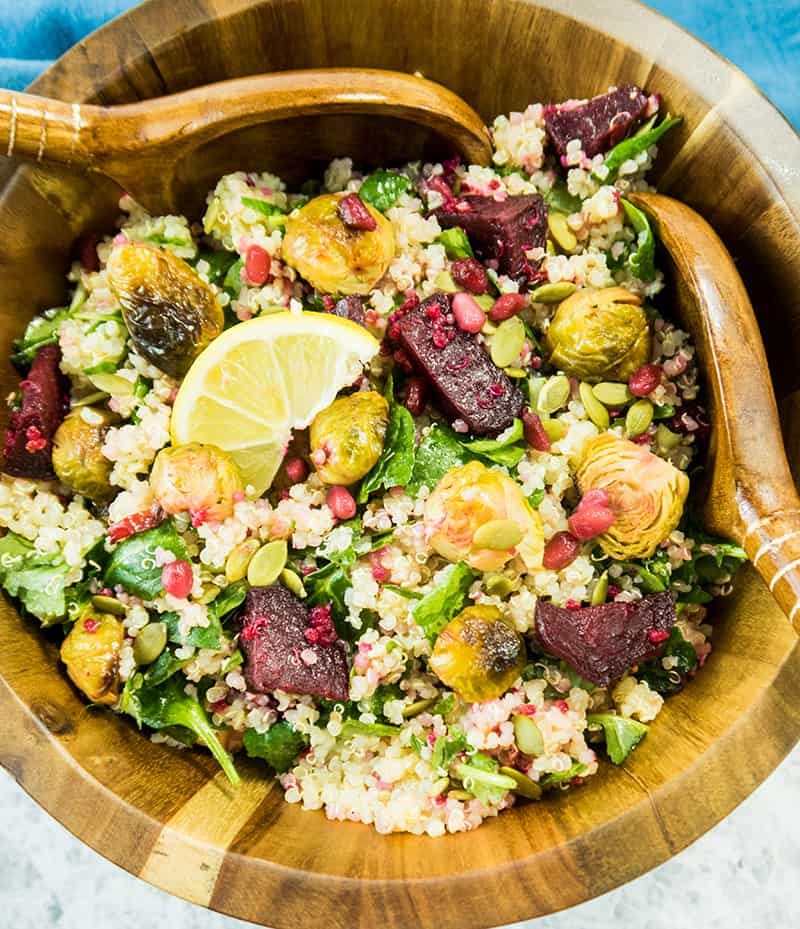 And since this salad is loaded with sooo much flavor & nutrition you're really gonna want to include this in your weekly dinner/lunch rotation!
I know for sure me & the hubby will be 🙂
So I've kinda started off the month of January craving salads...like lots of them and basically all things Healthish.
Because December was filled with lots of creamy dips and tasty treats would probably explain why.
Anyway with that in mind it also need to be hearty, flavorful and easily stand alone as a meal...>>>making Quinoa the proper addition here.
AND BRUSSEL SPROUTS IN SALAD....
Are always another welcome addition... especially when roasted to perfection.
Quinoa is really good to include in salads since it is one of the most protein-rich foods we can eat...Plus it contains all nine essential amino acids.
Hence if you haven't yet jumped on to the quinoa craze yet, this Quinoa Brussels Sprouts Beet Salad could be the perfect way to get ya started.
I mean you probably wanna get in as many veggies as possible before Valentines day and all things chocolate.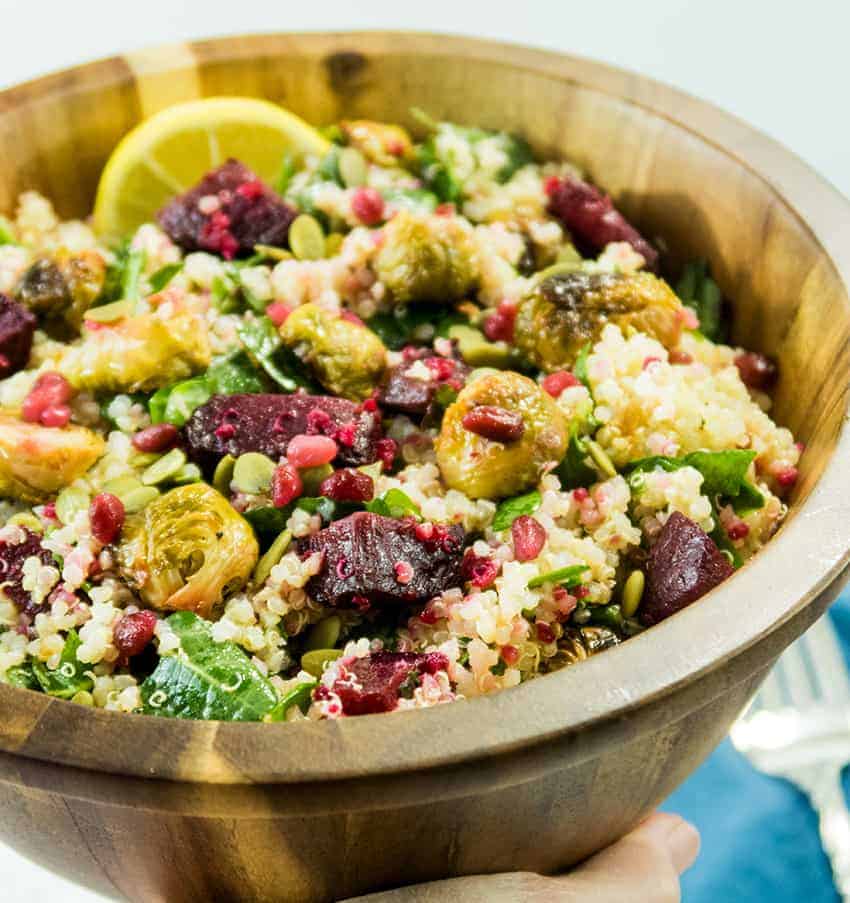 Now don't get me wrong, I absolutely love chocolate but try to do it in moderation...at least most of the time. Haha!
But when your special someone brings you some chocolate to show their love...I mean how ya going say "No Thank-you".
Even though me being the foodie I am, the way to my heart ♥ is with new kitchen toys..I'm sure the hubster will be reading this & maybe get the hint.
But for now let's load up on all things healthy & veggies and sum up this Quinoa salad for you below.
QUINOA SALAD RECIPES ARE....
Great Wintertime salads to add to your rotation of lunches/dinners
Perfectly good to make ahead
Packed with protein-rich Quinoa
What you need before the big chocolate Holiday
Quinoa is Vegan and Gluten-Free
AND IF YOU TRY THIS RECIPE PLEASE BE SURE TO LET ME KNOW IN THE COMMENTS BELOW…..
I'd love to hear if you make this & how you like it. Plus please be sure to include a star rating.
Enjoy!

Quinoa Brussels Sprouts Beet Salad
Quinoa, Roasted Brussels Sprouts, and beets dressed in a light olive oil and lemon dressing. Great wintertime salad that is perfect for lunch or dinner.
Ingredients
14

ounces

fresh brussels sprouts

3

medium

beets

2

medium/large

lemons

½

cup

olive oil divided

1

cup

quinoa uncooked

4

ounces

fresh greens*

salt & pepper to taste
Instructions
Preheat oven to 400 degrees.

Slice bottom off brussels sprouts & cut in half. Place in medium mixing bowl.

Wash beets and cut into bite sized chunks and place in bowl with brussels sprouts.

Slice 1 lemon into about ½ inch slices and add to mixing bowl. Reserve other lemon for juice for dressing.

Pour in 2 tbsp. olive oil and salt & pepper to taste. Mix well.

Place on large rimmed baking pan and roast about 35-40 minutes tossing at least once during cooking process.

Meanwhile cook quinoa according to package directions.**

Chop greens and mix with cooked cooled quinoa.

Add ¼ cup lemon juice and ¼ cup olive oil + 2 tbsp. to quinoa & greens mixture and combine well.

Top with roasted veggies and toss.

Optional toppings: pumpkin seeds & pomegranate seeds.
Notes
*I used a mix of baby kale, bok choy, & spinach(called super spinach).But any kind of hearty greens should work fine.
** I like to soak the quinoa in cold water in bowl prior to cooking about 15 minutes. I used a white quinoa for this recipe but you could use any kind.
This keeps well in the fridge covered for up to five days.
Nutrition