Grit Stuffed Roasted Red Peppers are a great brunch or dinner idea. So simple to prepare and go great with eggs for brunch or a salad for dinner. Vegetarian and Gluten Free.
Hello Guys! Hope this day has brought you lots of sunshine and happiness thus far. Today I wanted to talk about Grit Stuffed Roasted Red Peppers.
I usually keep a variety of bell peppers around since they are one of my favorite veggies. And since I was looking for a new way to make them that I haven't tried this is what I came up with.
While they were great for dinner, I did eat them the next day for brunch and they were equally as good leftover. So make a few extra for your brunch.
Bell peppers roasted in the oven with that nice charred flavor are good on their own but throw a little grits in the mix and it takes them to the next level.
It was kind of a new twist on grits or at least for me it was. You can make your grits anyway you like them but for these peppers I cooked my grits with vegetable broth instead of water. Hence, taking them to the next level of specialness 🙂
And after all everyone needs a little bit of special in their life whenever possible. Don't you think so?
So I hope I've solved your dinner problems for tonight or even breakfast for tomorrow. You could make up a few extra peppers since they really are good leftover.
But that's coming from the leftover queen. We tend to really dig into leftovers around our house.
Making this one of my favorite go to's and here are among some of the other reasons:
Perfect for a special brunch since goes great with eggs
Simple to prepare and tasty
Excellent source of Vitamin C and other nutrients
Vegetarian and Gluten Free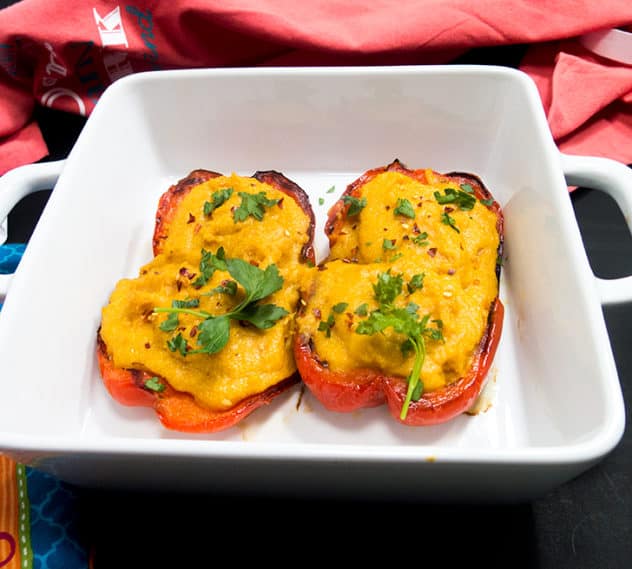 📖 Recipe
Grit Stuffed Roasted Red Peppers
Roasted red peppers filled with creamy grits can serve well as a dinner or brunch menu.
Ingredients
2

red bell peppers

½

tbsp.

olive oil

dash of salt

¾

cups

grits

2 ¼

cups

vegetable broth*

1

tsp.

garlic powder

2

tbsp.

butter

2

slices

Swiss cheese

couple dashes hot sauce

optional: green onion
Instructions
Preheat oven 400 degrees

Cut tops off peppers and remove membranes. Slice peppers in half.

Coat peppers with olive oil and sprinkle of salt.

Roast in preheated oven 20 minutes turning at least once during cooking.

Meanwhile prepare grits according to package directions.

Remove peppers from the oven and set aside. Reduce oven temperature to 350.

When grits are cooked add garlic powder, butter, Swiss cheese, and hot sauce. Stuff peppers with grits and sprinkle with red chili pepper flakes.

Return to oven and cook an additional 15 minutes.
Notes
* can use water in place of vegetable broth.
optional-top peppers with chopped green onion