This Coconut Ginger Rice with Peas is so easy to prepare and makes for a perfect side dish or even works well as a meal on its own.
It's less than five ingredients and you can make this in virtually no time at all.
Peas are such a great source of vegetarian protein, so if you're looking for a quick meal that fits all the nutrition requirements this is a good one to make. I tend to think about all of those things when preparing my meals. But most of all it has to taste good.
You could probably add some additional ingredients to this that would compliment the flavors of this Coconut Ginger Rice with Peas quite nicely.
If you're looking for other tasty rice ideas you may also want to try this Pineapple Fried Rice.
I like to use brown basmati rice but feel free to make this with any type rice.
It's really the fresh ginger and coconut which gives this rice the really awesome flavor. It doesn't take a lot of fresh ginger root to give this rice the wonderful flavors. And fresh ginger and coconut are talked about a lot as providing great health benefits, but I just love them because of the great flavors.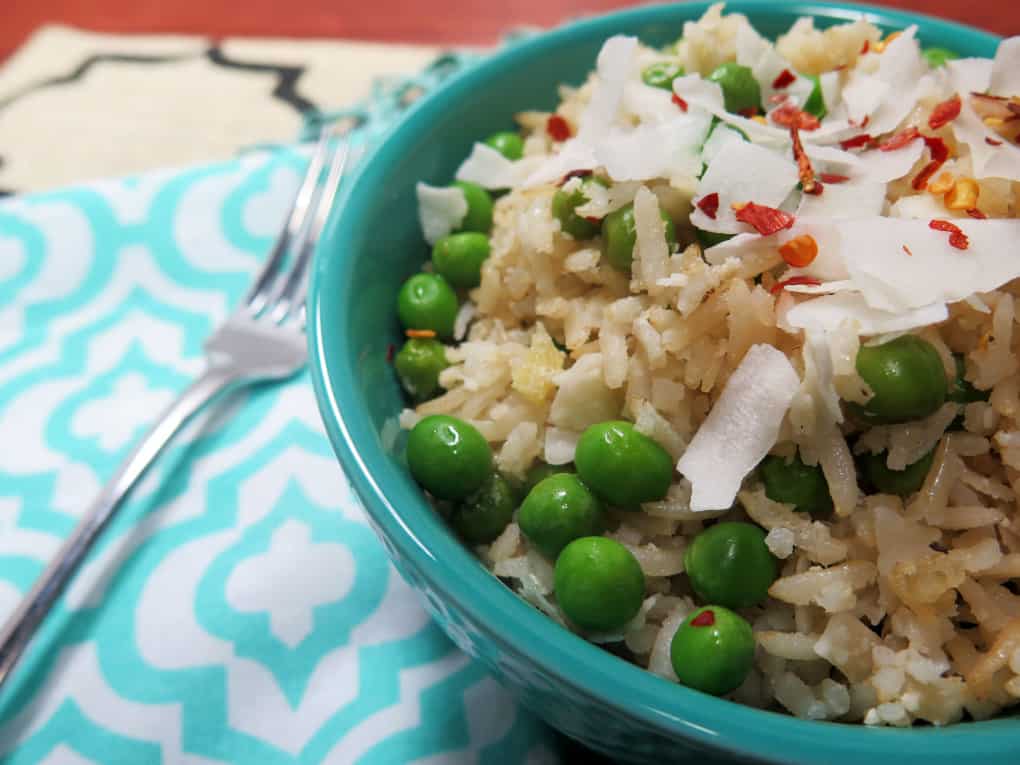 As with most dishes you prepare, the more fresh ingredients you use the tastier and more nutritious it's going to be for you. Coconut Ginger Rice with peas can provide you with all of that and in a short amount of time.
Another great recipe I like to make with peas is Easy Pea Salad. And you can tell by the name that it is also a quick salad to throw together. I usually like to make a big bowl of it and snack on it or even eat it for my lunch. It's definitely a quick lunch to throw together and it also makes a perfect side for a lot of meals.
Coconut Ginger Rice with Peas
Rice prepared with fresh ginger, coconut flakes, and peas are the perfect side or main course dinner.
Ingredients
1

tbsp.

olive oil

½

cup

unsweetened coconut flakes chopped

1

tbsp.

finely chopped ginger root

1

cup

rice

1 ½

cup

water

½

cup

half & half

1

cup

frozen peas rinsed

Salt to taste
Instructions
Heat oil olive over medium heat in saucepan. Add ginger root and coconut flakes.

Cook about 5-6 minutes. Add rice, water, half & half, and salt.

Bring to boil. Reduce heat, cover and cook 15-20 minutes until liquid absorbed.

Mix with frozen peas.

optional- top with additional coconut flakes and red chili pepper flakes