Spaghetti Squash Alfredo is the perfect low carb option for Alfredo. The sauce can be prepared in under 10 minutes making it an easy, tasty dinner. Vegetarian and Gluten Free.
It's been one of those kind of days where I was feeling a little less than motivated. They're calling for an ice storm tomorrow and snow on Saturday.
We usually don't get anything that bad here in our area, so I guess we will just have to wait and see.
But the good thing is I don't eat bread or drink milk so I'll probably be okay. Ha ha.
One thing for sure is last nights dinner was wonderful and so working on sharing this was a must have for today.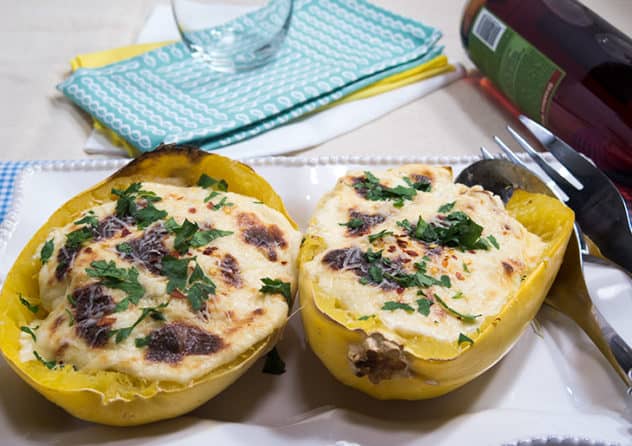 Spaghetti squash on it's own doesn't have a lot of flavor so it kind of takes on the flavors you add to it.
You just have to go with what you like and not be expecting that it's going to taste like a traditional pasta noodle.
This has never been my husband's favorite squash but I told him I would make a spaghetti squash lover out of him one day.
I think last night's dinner did that,  so we are moving in the right direction.
Be patient my friend and I'm sure you're going love this.
If you're stuck in the house with the cold Wintry weather why not bake a spaghetti squash and not have to think about what's for dinner tonight.
Or you can even throw the Squash on the grill if it's warmer weather. This Broccoli Cheese Stuffed Grilled Spaghetti Squash shows you just how easy it is.
So this Spaghetti Squash Alfredo is....
A tasty low carb Way to have alfredo
The sauce comes together in 10 minutes
Perfect for days when you're not as motivated to make dinner
Vegetarian & Gluten Free
Spaghetti Squash Alfredo
Spaghetti squash in a velvety creamy sauce sure to please anyone
Ingredients
1

medium/large spaghetti squash

1

tbsp.

olive oil

salt & pepper to taste

2

tbsp.

butter melted

2-3

cloves

garlic chopped

1

tbsp.

corn starch

2

ounces

cream cheese

1

cup

half&half*

½

tsp.

garlic powder

¼

tsp.

minced onion flakes

dash of cayenne pepper

1 ¼

cups

freshly grated parmesan cheese
Instructions
Preheat oven to 375 degrees

Cut spaghetti squash in half length wise and scoop out seeds. Place in baking dish cut side down with a little bit of water in bottom of pan. Bake about 30 to 45 minutes until you can easily insert fork into squash. Remove from oven and allow to cool about ten minutes.

Once cool take fork and remove strands from squash into large bowl. I then add olive oil, salt & pepper to the squash and scoop strands back into shell dividing evenly.

Alfredo sauce

Meanwhile melt butter over medium low heat. Add chopped garlic and cook couple minutes until fragrant.

Add cornstarch and cook another minute. Add remaining ingredients reserving the parmesan cheese until the end. Cook until thickened and creamy about 8-10 minutes.

Add 1 cup parmesan after sauce has thickened, reserving ¼ cup cheese for topping.

Pour sauce distributing evenly between the two shells. Top with remaining cheese and put under broiler for couple minutes till slightly golden brown.

Pour
Notes
*you could use whole milk in place of half & half
servings vary depending on the size of the squash and what else you might be serving this with