Mini Chocolate Chip Pumpkin Muffins are perfect for breakfast or a snack this Fall. Bite sized but loaded with pumpkin spice flavors and chocolate chips. Gluten free & Vegetarian.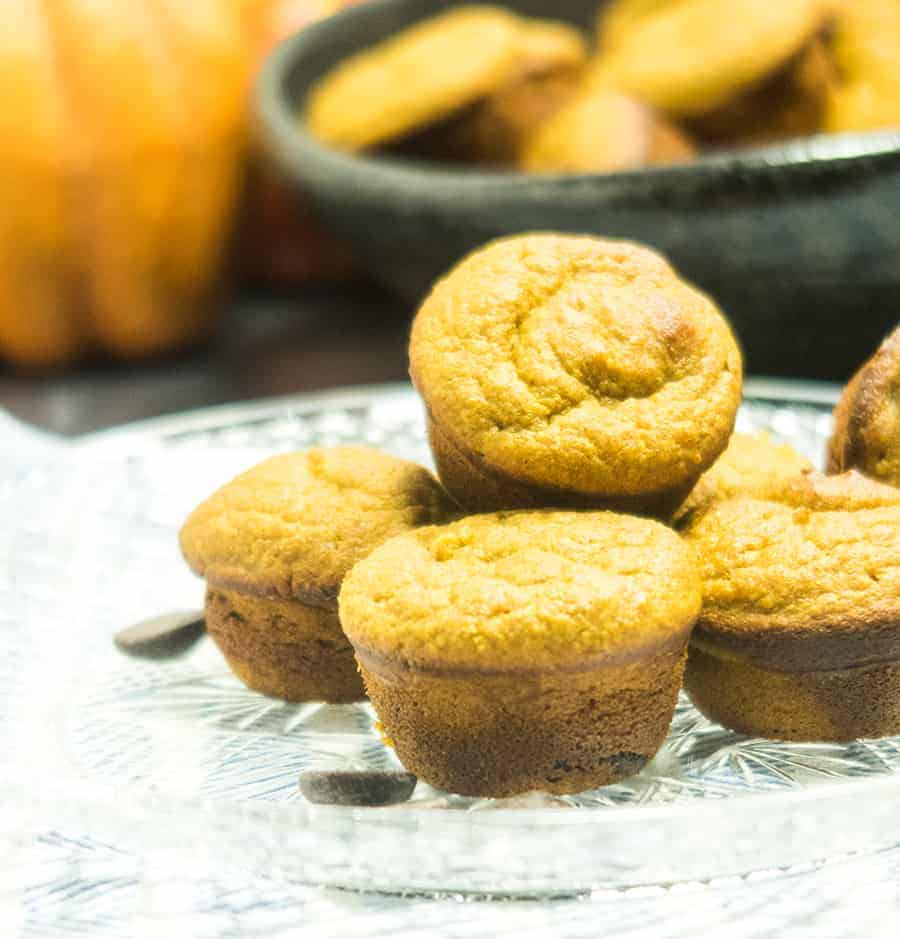 Hey there and Happy it's almost the weekend to you Guys!
And Happy it's getting so close to Fall, pumpkin season and all the good things that go along with it.
Do you guys love the Fall as much as I do?
Well if you're a fan of all things pumpkin and Fall...then you'll really wanna try these Mini Chocolate Chip Pumpkin Muffins.
They're the perfect blend of pumpkin spice and chocolate..Now tell me who doesn't like that!
Oh and this recipe made the hubby smile! He was kind of surprised when he bit into one of these warm out of the oven.
Chocolately goodness and all...I think he wasn't expecting all that! Super moist, just the right amount of spice along with the chocolate.
I'm pretty sure I'll have to be making these little muffins on the repeat!
Another one of my favorite things about the Fall is seeing all the pumpkins in the stores. Don't know why but for as long as I can remember pumpkins have made me Happy! 🙂
Okay, so now you're probably thinking I'm a little bit weird. And maybe I'am...but I can get somewhat relaxed and in a meditative state by carving or painting a pumpkin.
Actually I prefer painting them..I don't know maybe I missed my calling and should have been a painter. Haha!
But Fall also reminds me of the cooler temps and sitting by fires.
Also hopefully doing away with some of the pesky bugs, well other than the arachnids which my husband does a pretty good job of removing!
Oh and let's not forget Halloween and all the other Holidays approaching!
So with that being said let me sum UP all the reasons you'll wanna make these Mini Chocolate Chip Pumpkin muffins on the repeat.....
Perfect blend of pumpkin spice and chocolate
Bite sized for portion control
Would be great for a Halloween gathering
Kid friendly
No added refined sugars
Cause pumpkin treats need to be in your Fall line up
Gluten Free & Vegetarian
.
Mini Chocolate Chip Pumpkin Muffins
Mini Chocolate Chip Pumpkin Muffins are the perfect blend of pumpkin spice & chocolate all in bite sized treats that are great for breakfast or snacks.
Ingredients
Wet ingredients:

⅓

cup

coconut oil

2

eggs

1

cup

pumpkin puree

¼

cup

+ 2 tbsp. maple syrup

1

tsp.

vanilla extract

Dry ingredients:

1

cup

gluten free Oat flour

¼

cup

almond flour

1 ½

tsp.

baking powder

2

tsp.

cinnamon

1

tsp.

ginger

½

tsp.

allspice

¼

tsp.

salt

1

cup

dark chocolate chips
Instructions
Preheat oven to 350 degrees and lightly spray 24 mini muffin tin with cooking spray.

Add all wet ingredients to large mixing bowl and combine well.*

In separate smaller bowl add dry ingredients and mix well reserving chocolate chips till the end.

Gradually add dry ingredients in with wet ingredients.

Fold in chocolate chips.

Pour equal portions into mini muffin pan.**

Bake in preheated oven 15-18 minutes until toothpick inserted comes out clean.
Notes
*coconut oil needs to be liquid before adding. I melted it in oven that was pre-heating.
**I used melon baller to scoop batter into muffin tin(2-3 scoops).
Can be stored in airtight container in fridge for up to five days.