This Breakfast Burrito is the perfect tasty start to your day. Scrambled eggs, spinach, garlic & spices all wrapped in a tortilla wrap. Vegetarian and Gluten Free.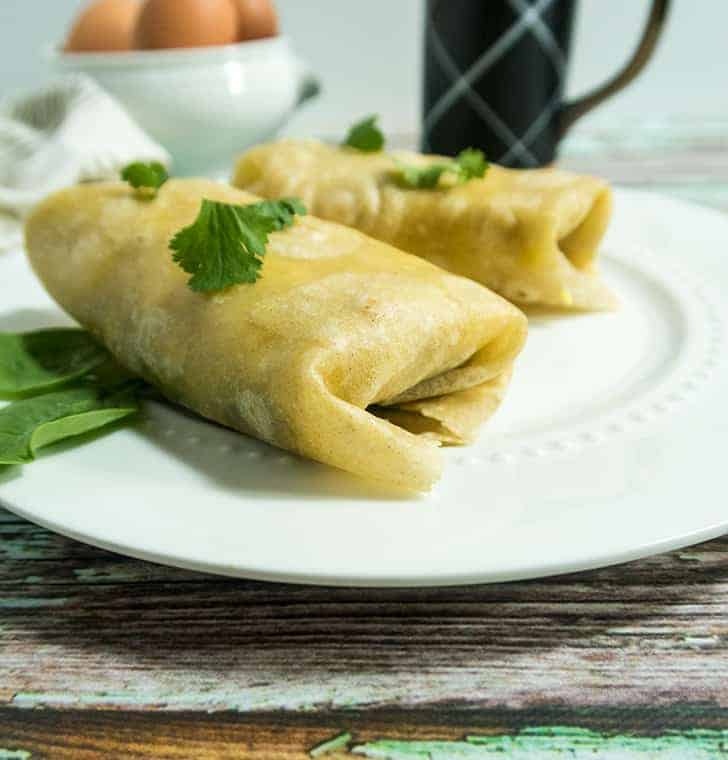 Hey Guys and for those of you who watched hope you enjoyed the big game!
But first of all I must say that the Super Bowl did not end the way I would have wanted it to, but I'm okay with that.
Of course you always want your team to win it. But to me the fact that you played in the Super Bowl and gave it your best at the time is really all that counts.
And it's the loyal fans that keep getting you back there.
My daughter Samantha definitely being one of them.. So Keep Pounding Panthers cause you're always going have the loyal fans.
So on to the food talk.  Since that's Why you're really here.
This breakfast burrito is one I make quite frequently on weekend mornings. It is so easy to make and delicious that I just wanted to share it.
And it really is a satisfying breakfast that will hold you through your weekend projects.
I like using wraps in a lot of things I make.
Like this and  this. They're really very versatile.
Sometimes they don't always hold together really well because of not having gluten in them. But that's okay, cause that tells me it probably really isn't something I want to eat.
And this Breakfast Burrito is...
A satisfying breakfast that will hold you for hours
Has a healthy dose of spinach and garlic
And turmeric in the scrambled eggs just adds to the nutrition
Family friendly
Vegetarian & Gluten Free
So enjoy your morning cup of java with a satisfying breakfast cause it really can be good for you and taste good as well.
Breakfast Burrito
Traditional scrambled eggs married together with herbs and garlic all wrapped up in a wonderful easy breakfast
Ingredients
½

tbsp.

butter

2

tbsp.

olive oil divided*

4

large eggs

2-3

tbsp.

half & half

¼-1/2

tsp.

each turmeric

garlic powder, & onion powder

salt & pepper to taste

2

gluten free wraps

2

slices

of cheese of choice***

4-6

cloves

of garlic finely chopped

handful of spinach leaves**
Instructions
Melt butter and 1 tbsp. olive oil over medium high heat

Meanwhile put gluten free wraps in separate covered pan and warm on low at least 2-4 minutes turning several times while warming.

In small mixing bowl combine eggs, half & half, turmeric, garlic powder, onion power, and salt pepper to taste. Beat well with fork and add to butter and olive oil. Cook eggs until light and fluffy pushing with spoon from the bottom of the eggs about 8-10 minutes. Add cheese once eggs are cooked and just melt till gooey.

Remove wraps from pan and place on serving plate and top with eggs, garlic in olive oil, greens.

Wrap tightly and serve
Notes
*put chopped garlic in 1 tbsp. olive oil
**I like to use Swiss, Monterey Jack, or Muenster cheese since they melt really well. But use cheese of choice.
***I generally use what greens I have on hand like spinach or mixed baby kale