These Garlic and Red Onion Roasted Green Beans are Super easy to prepare, incredibly delicious, and Only require five common ingredients to prepare. Perfect served along side most anything. Vegan and Gluten Free.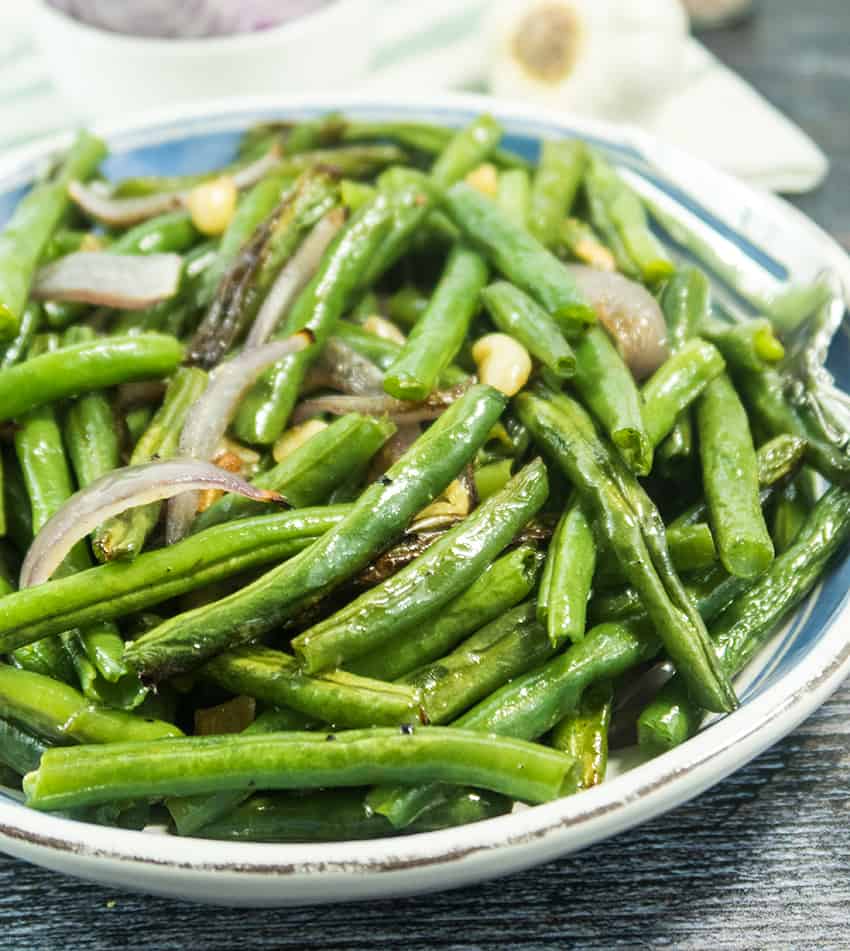 GREENBEANS....
So who out there doesn't love some good fresh from the garden green beans? I'm sure most of us can agree on this.
And I hope you'll try these Garlic and Red Onion Roasted Green Beans since I think they take green beans to the next level of Yum!
There is just something about fresh green beans roasting in the oven.
Now I can't say that I pulled these from my own garden, but they were really fresh and also Organic.
Since I don't really have the space for a garden with everything in it I would like, I sometimes have to rely on local suppliers to find what I need.
How many of you are lucky enough to have your own garden? Ultimately that would be the way to go. I would love to be able to grow all my own food.
I know it's a lot of work, but I enjoy being outside so I could really see myself getting into this. Oh well, I'll just add that to my list of things I hope to accomplish one day.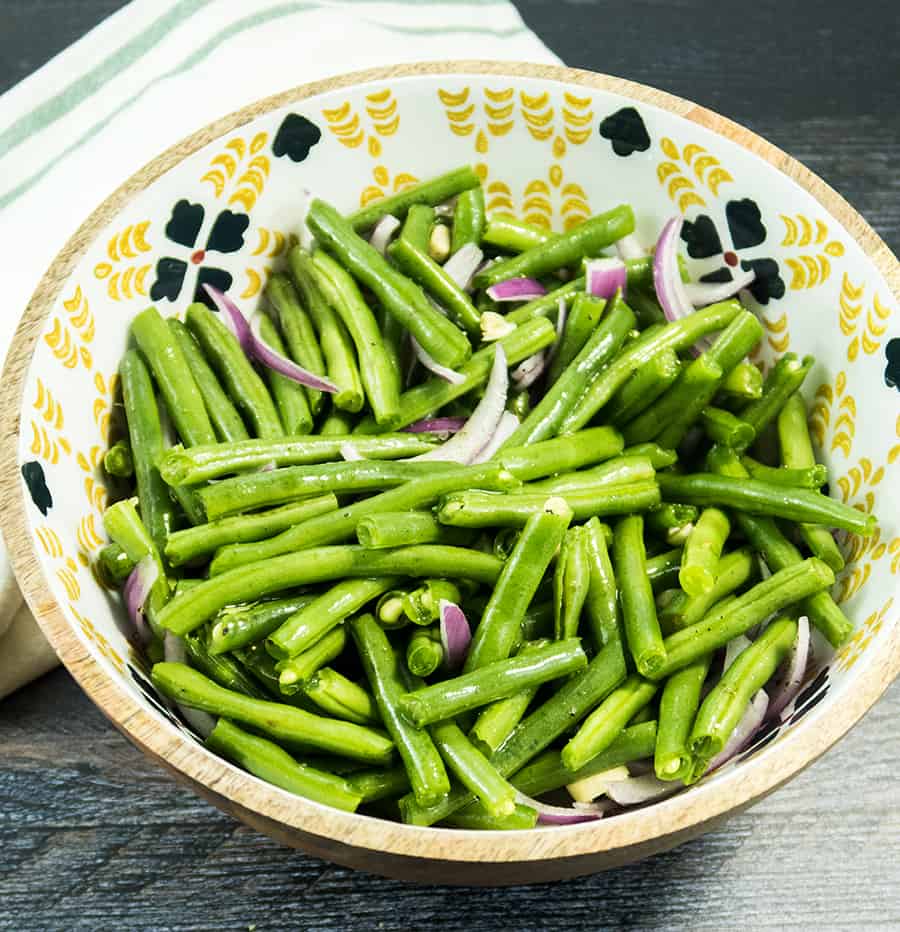 If you have some green beans you were thinking of cooking in the near future this is really a simple way to prepare them.
The red onion and garlic mixed with the beans while roasting not only smell delicious while you're cooking them, but the flavors are awesome as well.
You could also do these on the grill and they would be equally as good.
Especially since it's getting close to the official grilling season, although some of you may have already started.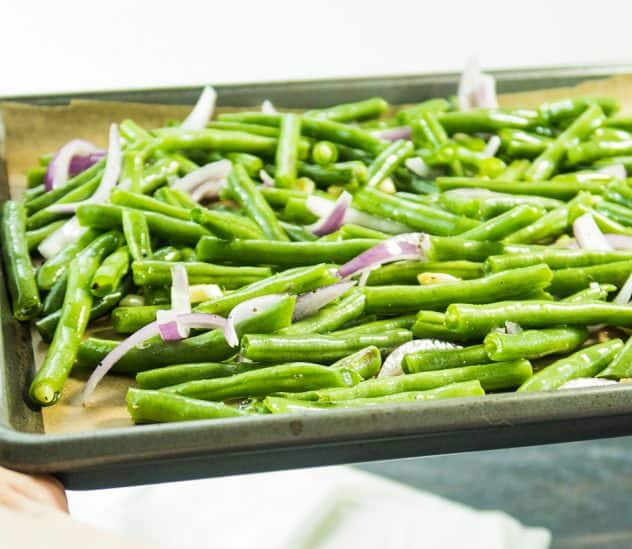 And a Portabella Mushroom Burger would also be great on the grill, along with these Garlic and Red Onion Roasted Green Beans.
Green beans are one of those vegetables that go great with a lot of different foods. So why not include these tonight on your dinner table?
And if I haven't yet convinced you to try these yet, let me just list all the various reasons you'll want to give these a go.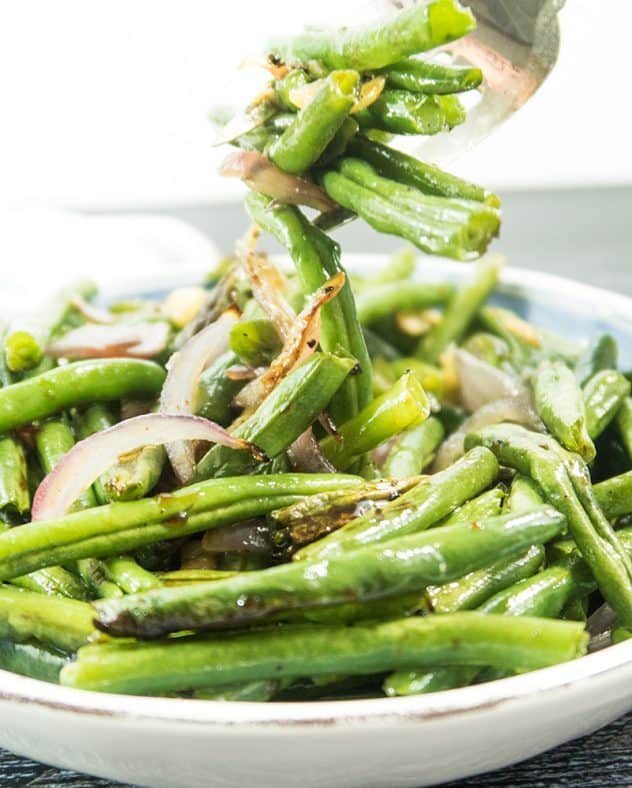 Since these Garlic and Red Onion Oven Roasted Green Beans are....
Super Easy to prepare
Smell amazing roasting in the oven
Require only five ingredients
Fresh Green Beans are just so much better
Good on the grill as well
Vegan and Gluten Free
Until next time-xoxo

Garlic and Red Onion Roasted Green Beans
Fresh Green Beans roasted with red onion and garlic are the perfect side for any meal.
Ingredients
1

lb.

fresh green beans

2

tbsp.

olive oil

7-8

cloves

garlic chopped

¼

sliced red onion

½

tbsp.

balsamic vinegar

salt & pepper to taste
Instructions
Preheat oven 400 degrees

Meanwhile snap ends off green beans. Rinse then pat dry.

Put in mixing bowl with olive oil , garlic, red onion, salt & pepper and combine.

Roast 20 minutes, turning once during cooking.

Remove from oven and drizzle with balsamic vinegar.
Notes
The recipe can easily be doubled.
**Updated** This post has been updated with new pictures. It was originally posted in March 2016 but wanted to showcase it again with some better pictures. The recipe & post words remain the same.