Baked Spaghetti Squash Mac n Cheese is a healthier, lower carb choice. But it's still packed with all the same cheesy goodness as traditional baked Mac n Cheese.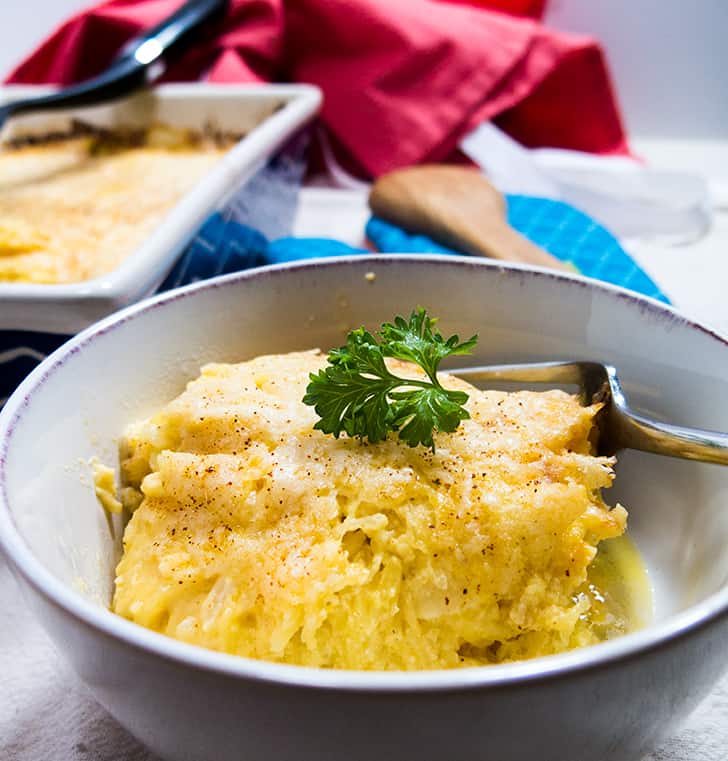 So Yes guys I seriously had to go there...Mac n Cheese has always been one of my favorites. And making it something I could feel good about eating had to happen. Like now!!
Along with thinking about all the other Holiday prep I really should be working on now. Are you guys last minute when it comes to the Holiday?..Or you need months of planning..
While even though I created a spicy version I wanted to turn spaghetti squash into a family friendly tasty meal. Something even your children would Enjoy!
Believe me when I say," I think you can win over some of your pickiest eaters with this Baked Spaghetti Squash Mac n Cheese".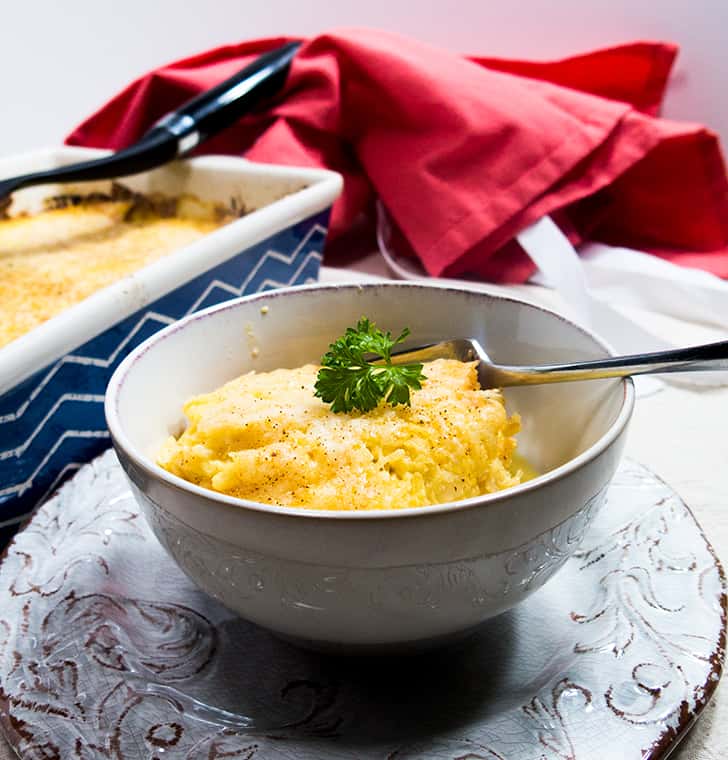 Now grant it my husband is really not a picky eater but spaghetti squash has never been his favorite. So when he tried this and said..."This is EXCELLENT", I just did a little happy 🙂 dance.
And to think Spaghetti Squash is one of those veggies I used to kind of SHY away from. But since trying various recipes with it, now it has become a favorite.
Plus, this is so simple to make and I just love throwing a squash in the oven on a cool day..
Nothing says comfort more to me than food cooking in the oven. If you're short on time you can always cook the spaghetti squash ahead of time.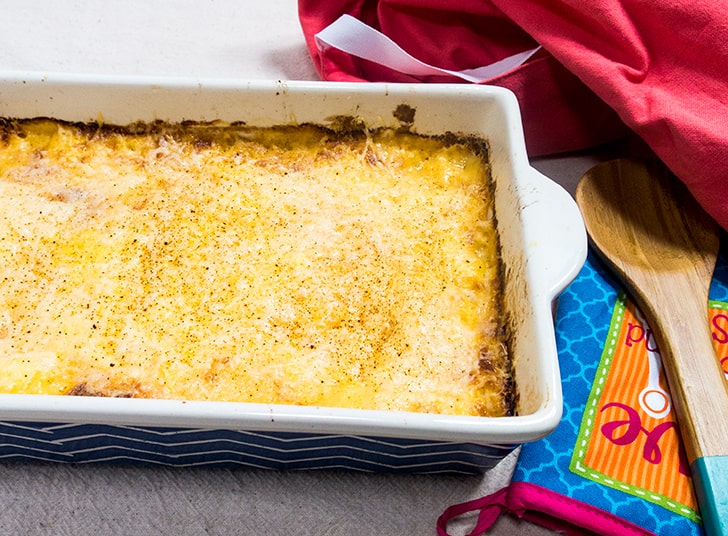 Anyway, I hope I've convinced you now to try this Baked Spaghetti Squash Mac n Cheese since:
It's a healthier, lower carb option for Mac n Cheese
You can have seconds without the guilt
Provides a source of Vitamin C and B6
Even picky eaters will love this
Vegetarian and Gluten Free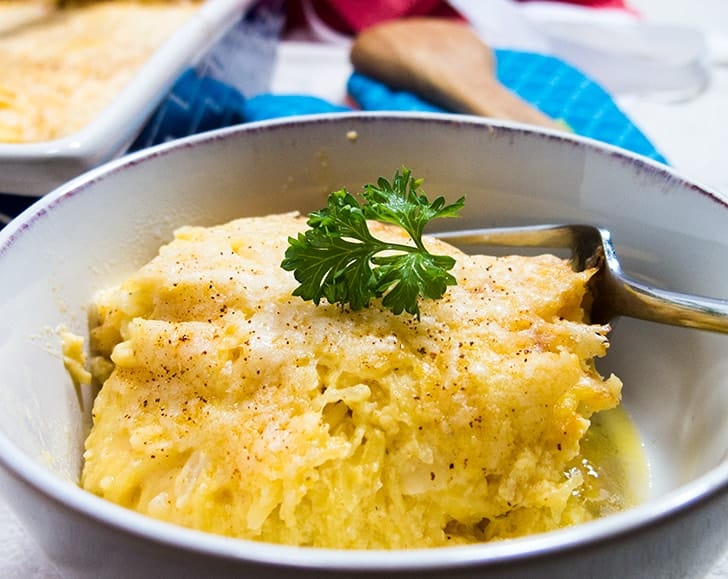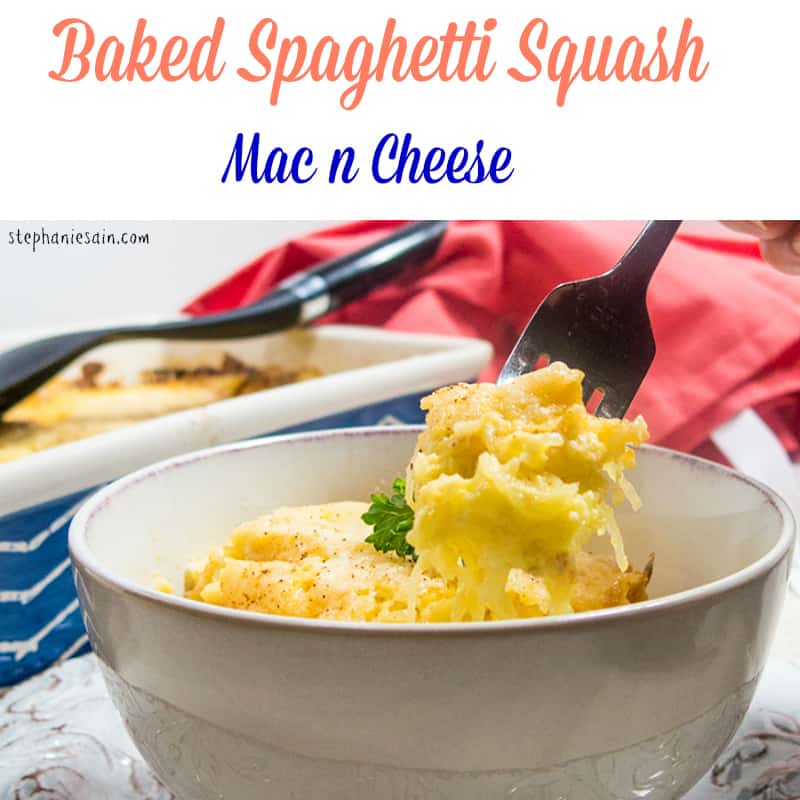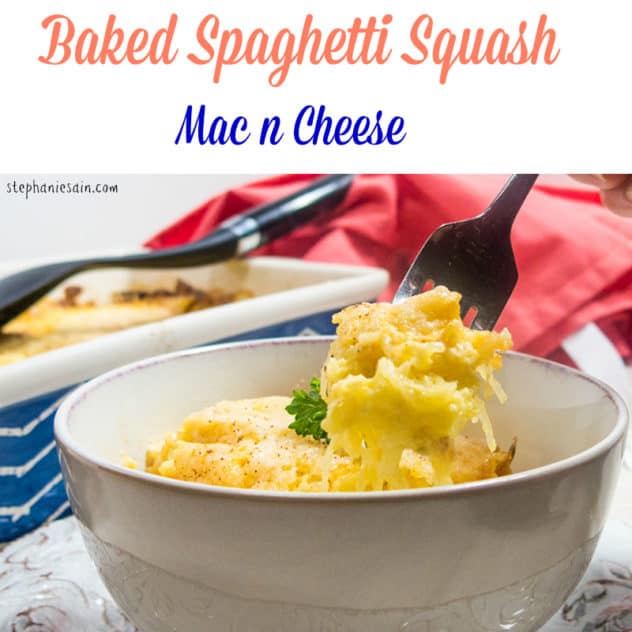 Baked Spaghetti Squash Mac n Cheese
Baked Spaghetti Squash Mac n Cheese is a creamy, tasty, healthier version for a favorite dish.
Ingredients
1

medium/large spaghetti squash

1

tbsp.

olive oil

3

tbsp.

butter divided

3

eggs

salt & pepper to taste

½

tsp.

mustard seed

½

tsp.

garlic powder

2

tbsp.

cornstarch

¼

tsp.

paprika

dash of nutmeg

½

cup

chopped yellow onion

1

cup

half and half cream

8

ounces

sharp cheddar cheese shredded

¼

cup

shredded parmesan cheese
Instructions
Preheat oven to 375 degrees

Cut spaghetti squash in half lengthwise and scoop out seeds.

Place on baking dish flesh side down with a little bit of water on the bottom of pan.

Bake in preheated oven 35 - 40 minutes until you can pierce easily with a fork.

Remove from oven, flip over and allow to cool 5-10 minutes.

Reduce oven to 350 degrees.

Generously grease casserole pan and set aside.

With a fork scrape the flesh of the spaghetti squash out into casserole pan(should look similar to spaghetti strands) and mix with 1 tbsp. olive oil, salt and pepper to taste. Allow spaghetti squash to cool while making cheese sauce, then add 3 beaten eggs. Then dot with 2 tbsp. butter.

Meanwhile in medium saucepan melt 1 tbsp. butter over medium heat. Add cornstarch and stir to form a roux. Add mustard seed, garlic powder, paprika, nutmeg and chopped onion and stir about 1 minute. Add half and half and cook about 6-8 minutes stirring frequently until thickened.

Add cheddar cheese and stir until completely melted.

Pour cheese sauce over Spaghetti Squash mixture and combine well.

Bake in preheated oven 30 minutes.

Remove from oven and top with parmesan cheese.

Bake additional 5-10 minutes.

Remove from oven and allow to cool at least 10 minutes prior to serving