Mini Vegetarian Taco Cups are super easy to make and made with only a few ingredients. Prepared in a muffin tin and toppings can be customized. Gluten Free & Vegetarian.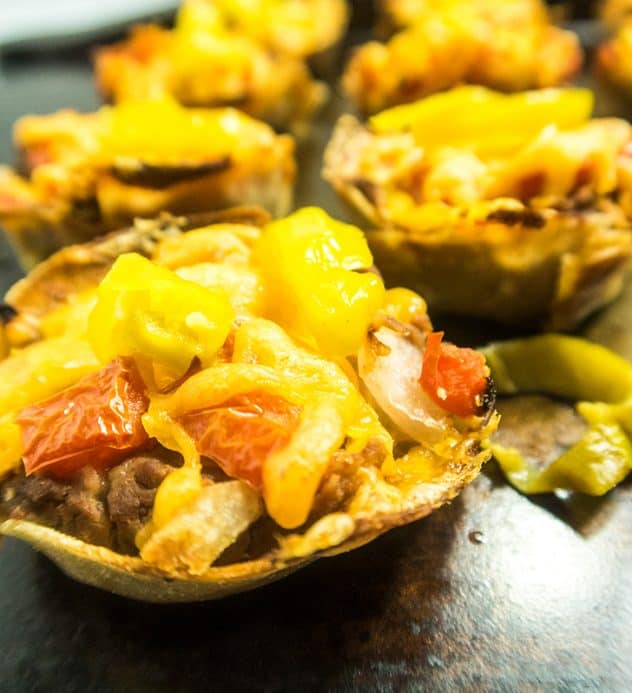 Okay, so anything that can be prepared quickly, is portable, cute and tasty... I'm so in.. And it's no secret that Mexican food is one of my favorites.
These Mini Vegetarian Taco Cups were a last minute plan. While I had the ingredients for a tasty bean burrito I was looking for something a little bit different.
Don't you guys sometimes get tired of the same ole thing? Well not around here. Doesn't happen in the life of a food blogger.
Everything is a potential recipe in the making. So you cook, bake, shoot, eat, repeat!! Sounds like fun, Right?
Seriously though, it is. And the best part is you get to EAT all of the yumminess!
Hope you guys enjoyed your weekend and maybe even spent some time hanging out with friends watching the Super Bowl!
Funny thing about me and football is I really like a good game for the most part..Well unless my team is playing and totally killing it..
I don't know... I guess it can be a little stressful if you're in the last few minutes of a game and really want your team to WIN. Sometimes I just can't bring myself to watch.
But since my team the "Panthers" were not playing this year it was definitely all about the food, food, and more food. OH, and maybe the commercials and half-time show.
And sometimes that's okay with me, to just enjoy the experience. Whether it be watching a good game with friends, cooking, or just relaxing in the sunshine.
Some things are just meant to be fun and easy like these Mini Vegetarian Taco Cups cause:
They are EASY to make with only a couple ingredients
Cute little portable treats
Great leftover and perfect for snacks or lunch
KID friendly(not the goat kind)
Customizable so you can add your favorite toppings
Gluten Free & Vegetarian
Enoy!  

Mini Vegetarian Taco Cups
These Mini Vegetarian Taco Cups are easy to prepare in a muffin tin and can be customized with your favorite toppings. Filled with re-fried beans and then topped with your favorites.
Ingredients
4

gluten free tortilla wraps

1

can re-fried beans

2 to

matoes diced

½

onion diced

1

cup

cheddar cheese shredded

¼

cup

peperoncini
Instructions
Preheat oven 350 degrees

Spray 12 cup muffin tin with non-stick cooking spray.

Cut circles out of each tortilla with pizza cutter*

Place each circle on bottom of muffin tin.

Top equally with re-fried beans and then toppings of choice.

Bake in preheated oven 20-25 minutes till slightly crispy
Notes
* I got three circles out of each tortilla. I just eye balled the first one and then used it to trace the others to equal size.
You could probably also use a cookie cutter if you had the right size.