Grilled Eggplant Fries are a great option next time you're looking for a different tasty way to prepare Eggplant. Vegan and Gluten Free with only two ingredients not including spices.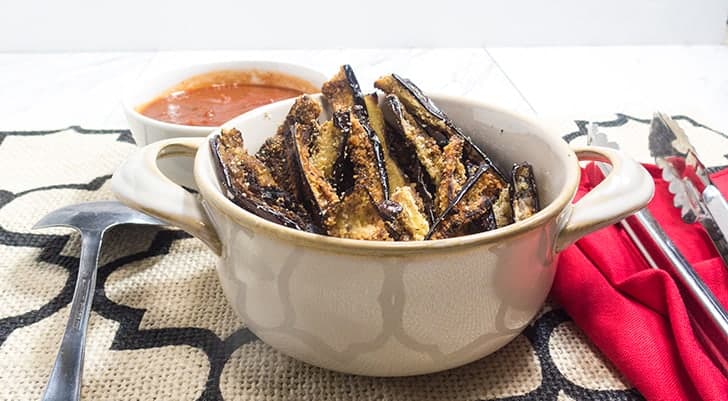 So my grilling adventures for the July 4th Holiday this year included these Eggplant Fries. And Easy, Peasy would be an understatement. I really just wanted to do something simple since we really didn't have any big plans for the Holiday.
Although we didn't leave our back yard that night we got to see an incredible fireworks display. I must say the neighbors in our area had the serious stuff this year.
So for the Grilled Eggplant Fries you just want to start by cutting up an Eggplant into pieces resembling the size of fries and then place them in a colander with a generous amount of salt.
You could also peel the Eggplant if you don't like the outer skin but personally I think it's rather tasty grilled.
While the grill is heating they will release moisture from the Eggplant and then you will just need to pat them dry prior to coating them.
I dipped these in some Marinara sauce and served with a salad. It was definitely a complete and satisfying meal.
I think they would probably be great with a lot of different things or even just served up as an appetizer. They'd also be great served with a Chili Cheese Veggie Burger.
I'm one of those kind of people when going out to eat I prefer to order from the appetizer menu. I think it's just cause I like to try several different things and this is just an easy way to do that.
Hey, by the time I've had my couple appetizers I'm done.
What can I say?
Cheap Date
Don't really care about eating out much
Husband always eats good regardless
Ha ha, just throw a few Eggplant fries on the grill and you've got an appetizer that is sure to impress even the pickiest of eaters.
Grilled Eggplant Fries
Eggplant cut up into tasty little bite size fries are a healthy tasty appetizer or side.
Ingredients
1

medium eggplant cut into shape of fries

½

tsp.

salt

¾

cup

panko bread crumbs

gluten free

½

tsp.

garlic powder

½

tsp.

minced onion

½

tsp.

onion powder

1

tsp.

dried parsley

¼

tsp.

black pepper

1

tbsp.

olive oil

optional: marinara sauce
Instructions
Slice both ends off eggplant. Slice lengthwise and cut into bite size fries.

Place into colander and sprinkle with salt. Allow to sit while heating up grill.

Meanwhile in medium bowl mix bread crumbs with seasonings and combine well.

Right before placing on grill you need to pat dry the eggplant and place on pan.

Brush all sides with olive oil and then sprinkle with bread crumb mixture. Toss well and place on grill.

Cook 20 minutes turning frequently